Pete the Cat: Rocking in My School Shoes (Hardcover)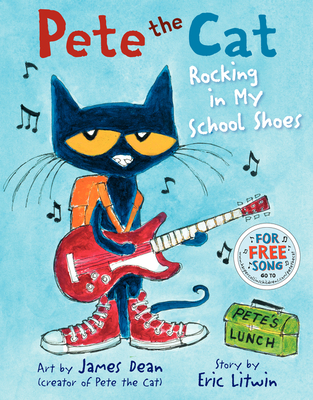 Description
---
Time to head back to school with this bestselling groovy Pete the Cat book!
Pete the Cat is rocking in his school shoes. Pete discovers the library, the lunch room, the playground, and lots of other cool places at school.
And no matter where he goes, Pete never stops moving and grooving and singing his song...because it's all good.
The fun never stops—download the free groovin' song.
Don't miss Pete's other adventures, including Pete the Cat: I Love My White Shoes,  Pete the Cat and His Four Groovy Buttons, Pete the Cat Saves Christmas, Pete the Cat and His Magic Sunglasses, Pete the Cat and the Bedtime Blues, Pete the Cat and the New Guy, Pete the Cat and the Cool Cat Boogie, Pete the Cat and the Missing Cupcakes, Pete the Cat and the Perfect Pizza Party, and Pete the Cat: Crayons Rock!

About the Author
---
Eric Litwinis a guitar-strumming, song-singing, banjo-picking, tale-telling, song-writing, national-award-winning, music-producing, fun, folksy type of guy. He loves to blend song and story together and is inspired by the depth and simplicity of folk songs and folktales. Eric is a popular performer, delighting thousands of children and families every year. He has recorded two award-winning children's music CDs.
James Dean's art has sold in more than ninety galleries and shops across the United States. He has devoted his paintings to Pete the Cat for fifteen years and has turned his natural love for cats into his life's work. James published his first adult book, The Misadventures of Pete the Cat, a history of his artwork, in 2006. He illustrated his first self-published children's book, Pete the Cat: I Love My White Shoes, in 2008, and the follow-up book, Pete the Cat: Rocking in My School Shoes, in 2011. James lives in Savannah, Georgia, with his wife, four cats, and one dog. You can visit him online at www.petethecat.com.