TBH #1: TBH, This Is So Awkward (Paperback)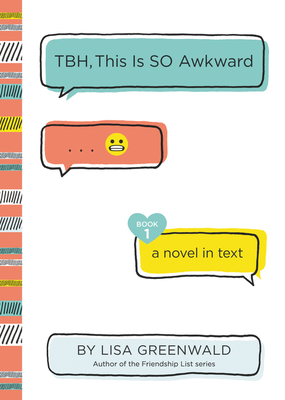 Other Books in Series
This is book number 1 in the TBH series.
Description
---
Told entirely in text messages, this addictive new series from the acclaimed author of My Life in Pink & Green is perfect for fans of Lauren Myracle and Wendy Mass. This middle grade novel is an excellent choice for tween readers in grades 5 to 6, especially during homeschooling. It's a fun way to keep your child entertained and engaged while not in the classroom.
To be honest, middle school is rough! Cecily, Gabby, and Prianka have been BFFAE since pre-K, so it's totally natural when they don't include the new girl, Victoria, in their plans and group texts.
Between organizing the school Valentine's Day dance, prepping for their first boy-girl party, and trying to keep their texts so boring their moms won't use spy apps to read them, the friends only have time for each other.
But when Victoria is accidentally sent a hurtful text message, the entire sixth grade gets called out for bullying, cell phones are confiscated, and the trio known as CPG4Eva is forced to figure out just how strong their friendships are IRL.
About the Author
---
Lisa Greenwald lives in New York City with her husband and two young daughters. She loves sunglasses, reading, the beach, and sushi. Visit her at www.lisagreenwald.com.
Praise For…
---
"In this fine successor to Lauren Myracle's TTYL and its sequels, Greenwald (11 Before 12) realistically captures the language of texting tweens, including exuberant use of emoji, and how mistakes can be made and tone misunderstood amid rapid-fire digital conversations."
— Publishers Weekly

"Get ready to fall in love with these girls who use their humor and wit (and lots and lots of emojis) to right wrongs and build bridges."
— ALA Booklist

"Greenwald successfully blends emojis and text to bring the high drama and emotional changes of middle school to life. This first in a new series for preteens and young teens who value friendship and doing the right thing is pretty endearing."
— Kirkus Reviews

"Enticing and readable."
— Bulletin of the Center for Children's Books

"Srlsy, idk how Lisa does it. These characters are so real! XOXOXO!! <3"
— Lauren Myracle, New York Times bestselling author

"This gem of a book is sprinkled with just enough muscle. To all my tween book BFFs: you will adore TBH, This Is So Awkward!"
— Terra Elan McVoy, bookseller at Little Shop of Stories and author of Drive Me Crazy

"Lisa Greenwald goes beyond emojis to the power, both hurtful and helpful, inherent in this concentrated form of communication. Young readers (and their parents) will find characters who are cringe-worthily familiar!" 
— Starr LaTronica, Director, Brooks Memorial Library, Brattleboro, VT

Praise for 11 BEFORE 12: "Omigosh, I LOVE Lisa Greenwald's new book. Brilliant, laugh-out-loud hilarious, and heartbreaking (in a good way), 11 BEFORE 12 is probably the best middle school friendship ever. Totes on fleek-legit!"
— Lauren Myracle, New York Times bestselling author of the Winnie Years and Wishing Day series

"The voice of a tween dealing with the pressures of adolescence is authentic, and this book will entice those who want to read about a relatable, funny young woman."
— School Library Journal

"This breezy beach read is well-done."
— Kirkus Reviews