Not Quite Snow White (Hardcover)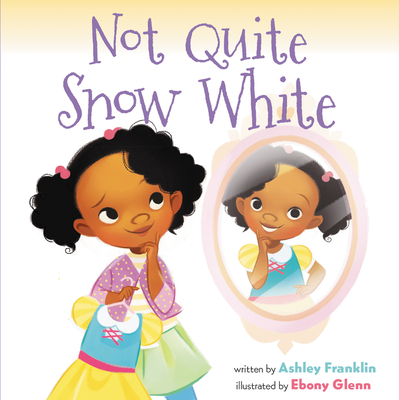 Description
---
A picture book for magical yet imperfect children everywhere, written by debut author Ashley Franklin and perfect for fans of such titles as Matthew A. Cherry's Hair Love, Grace Byers's I Am Enough, and Lupita Nyong'o's Sulwe.
Tameika is a girl who belongs on the stage. She loves to act, sing, and dance—and she's pretty good at it, too. So when her school announces their Snow White musical, Tameika auditions for the lead princess role.
But the other kids think she's "not quite" right to play the role.
They whisper, they snicker, and they glare.
Will Tameika let their harsh words be her final curtain call?
Not Quite Snow White is a delightful and inspiring picture book that highlights the importance of self-confidence while taking an earnest look at what happens when that confidence is shaken or lost. Tameika encourages us all to let our magic shine.
About the Author
---
Ashley Franklin is a professional chaser—of ideas, dreams, and, most often, her kids. She is the author of Not Quite Snow White and a contributor to Once Upon an Eid, a collection of brilliant Muslim voices and stories. Ashley lives in Arkansas with her husband, Michael, and her children, Bilal and Mikhail. You can visit her online at ashleyfranklinwrites.com.
Ebony Glenn is an Atlanta-based illustrator who enjoys bringing stories to life with whimsical illustrations. Ebony is the illustrator of Mommy's Khimar, written by Jamilah Thompkins-Bigelow; Speak Up, written by Miranda Paul; Flying High and Brave Ballerina, written by Michelle Meadows; and Red Shoes, written by Karen English. You can visit her at ebonyglenn.com.
Praise For…
---
"A beautifully illustrated story." — Booklist
"Using language which encourages hope, body positivity, and self-worth, Franklin weaves together a story which can be used by parents, librarians, teachers, and reading specialists to discuss overcoming discrimination." — Booklist
"Buoyant digital illustrations in candy colors reflect Tameika's outgoing personality." — Booklist
"By the end, I was cheering and tearing up with joy for Princess Tameika!" — Jamilah Thompkins-Bigelow, author of Mommy's Khimar 
"Franklin's sensitive treatment of this young girl's story, along with Ebony Glenn's bright but soft illustrations, encourages us to root for a new kind of princess while opening much-needed conversations." — Jamilah Thompkins-Bigelow, author of Mommy's Khimar
"A feel-good picture book and a great reminder that classic princess roles can be reimagined to embrace inclusion, diversity, and body positivity." — Kirkus Reviews
"Glenn's playful, animation-inspired digital art will enchant readers as it immerses them in Tameika's vivid imagination." — Kirkus Reviews
"For kids who like to imagine themselves being anything they want to be, it is reassuring to be reminded that it's not exterior looks that matter but the princess within." — Kirkus Reviews
"With earnestness and plenty of heart, the creators adroitly make the girl's problem feel less overwhelming, smartly emphasizing her passion and empowerment." — Publishers Weekly
"It's refreshing to see female confidence portrayed without a single 'aw, shucks' moment, and important to be reminded that there's no one right way to be a princess." — Publishers Weekly