The Paper Girl of Paris (Paperback)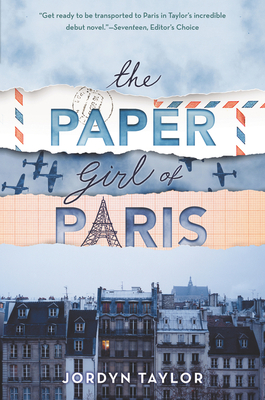 Description
---
"A quick read that history lovers will easily devour."—Teen Vogue
"Get ready to be transported to Paris in Taylor's incredible debut novel."—Seventeen, Editor's Choice
Code Name Verity meets Jennifer Donnelly's Revolution in this gripping debut novel, now in paperback with a teaser to Jordyn Taylor's next fast-paced historical YA novel, Don't Breathe a Word
NOW:
Sixteen-year-old Alice is spending the summer in Paris, but she isn't there for pastries and walks along the Seine. When her grandmother passed away two months ago, she left Alice an apartment in France that no one knew existed. An apartment that has been locked for more than seventy years.
Alice is determined to find out why the apartment was abandoned and why her grandmother never once mentioned the family she left behind when she moved to America after World War II. With the help of Paul, a charming Parisian student, she sets out to uncover the truth. However, the more time she spends digging through the mysteries of the past, the more she realizes there are secrets in the present that her family is still refusing to talk about.
THEN:
Sixteen-year-old Adalyn doesn't recognize Paris anymore. Everywhere she looks, there are Nazis, and every day brings a new horror of life under the Occupation. When she meets Luc, the dashing and enigmatic leader of a resistance group, Adalyn feels she finally has a chance to fight back.
But keeping up the appearance of being a much-admired socialite while working to undermine the Nazis is more complicated than she could have imagined. As the war goes on, Adalyn finds herself having to make more and more compromises—to her safety, to her reputation, and to her relationships with the people she loves the most.
About the Author
---
Jordyn Taylor is a New York City–based writer and journalist, currently the deputy editor at Men's Health magazine; her work has appeared in the New York Observer, Mic, and Glamour.com.
Praise For…
---
"A beautiful story of two girls' courage and commitment seven decades apart. THE PAPER GIRL OF PARIS takes us into the very heart of Paris, in both the darkest hours of the German occupation and of one modern family's deep grief, and invites us to fall in love. A finely crafted historical fiction debut." — —Caroline Leech, author of Wait for Me and In Another Time
"Gripping" — Kirkus Reviews
"Jordyn Taylor has written a book with all the gems you hope for in a story to treasure: mystery, romance, fi erce heroines doing brave things in the face of everything from familial trauma to historical tragedy. The way these parallel stories converge is brilliant and satisfying. I had to read this book all at once." — —Florence Gonsalves, author of Love & Other Carnivorous Plants and Dear Universe
"A must-read for fans of Code Name Verity, Taylor's debut aptly blends mystery, romance, history, and complicated family dynamics into a compulsively readable story." — —Liz Lawson, author of The Lucky Ones
"If historical fiction is your jam, then we've got a treat for you with this debut novel."  — CNN Underscored 
"Get ready to be transported to Paris in Taylor's incredible debut novel." — Seventeen, Editor's Choice
"A quick read that history lovers will easily devour" — Teen Vogue