Riley's Ghost (Paperback)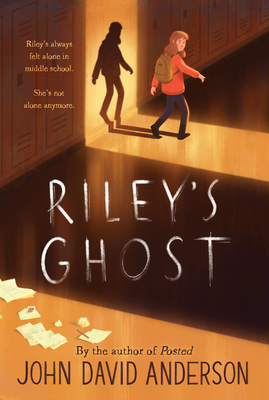 Description
---
From John David Anderson, acclaimed author of Posted, comes a ghost story pulled from the darkest shadows of middle school.
Riley Flynn is alone. 
It feels like she's been on her own since sixth grade, when her best friend, Emily, ditched her for the cool girls. Girls who don't like Riley. Girls who decide one day to lock her in the science closet after hours, after everyone else has gone home.
When Riley is finally able to escape, however, she finds that her horror story is only just beginning. All the school doors are locked, the windows won't budge, the phones are dead, and the lights aren't working. Through halls lit only by the narrow beam of her flashlight, Riley roams the building, seeking a way out, an answer, an explanation. And as she does, she starts to suspect she isn't alone after all. 
While she's always liked a good scary story, Riley knows there is no such thing as ghosts. But what else could explain the things happening in the school, the haunting force that seems to lurk in every shadow, around every corner? As she tries to find answers, she starts reliving moments that brought her to this night. Moments from her own life...and a life that is not her own.
About the Author
---
John David Anderson is the author of more than a dozen acclaimed and beloved books for kids, including the New York Times Notable Book Ms. Bixby's Last Day, Posted, Granted, One Last Shot, Stowaway, The Greatest Kid in the World, and many more. A dedicated root beer connoisseur and chocolate fiend, he lives with his wonderful wife, two frawesome kids, and clumsy cat, Smudge, in Indianapolis, Indiana. You can visit him online at johndavidanderson.org.