Trouble at Table 5 #6: Countdown to Disaster (HarperChapters) (Paperback)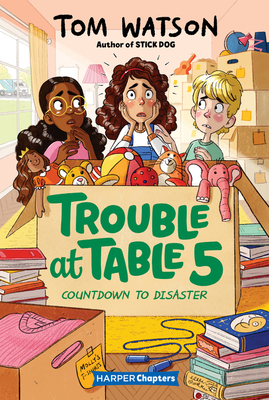 $5.99

Usually Ships in 1-5 Days
Description
---
From the author of Stick Dog comes the sixth book in a highly illustrated early chapter book series about three best friends whose plans, missions, and schemes are sure to shake up their school.
Uh-oh! Molly's parents have a secret. They want to move to a new house—maybe even a new town. But Molly can't leave her best friends Rosie and Simon behind!
Now the trio from Table 5 only have three days to come up with a scavenger hunt that will remind Molly's parents of all the things they love about their house and neighborhood…before the moving vans come and Molly has to go. 
HarperChapters build confident readers one chapter at a time! With short, fast-paced books, art on every page, and milestone markers at the end of every chapter, they're the perfect next step for fans of I Can Read!
About the Author
---
Tom Watson lives in Chicago with his wife, daughter, and son. He also has a dog, as you could probably guess. The dog is a Labrador-Newfoundland mix. Tom says he looks like a Labrador with a bad perm. He wanted to name the dog "Put Your Shirt On" (please don't ask why), but he was outvoted by his family. The dog's name is Shadow. Early in his career Tom worked in politics, including a stint as the chief speechwriter for the governor of Ohio. This experience helped him develop the unique, storytelling narrative style of the Stick Dog books. More important, Tom's time in politics made him realize a very important thing: Kids are way smarter than adults. And it's a lot more fun and rewarding to write stories for them than to write speeches for grown-ups.
Marta Kissi is a London-based illustrator originally from Warsaw. She studied BA Illustration & Animation at Kingston University and MA Communication Art & Design at the Royal College of Art. Her favorite part of being an illustrator is bringing stories to life by designing charming characters and the wonderful worlds they live in. She shares a studio in London with her husband, James, and their pet plant, Trevor.
Praise For…
---
"With likable characters, an amusing situation, and lots of reinforcement for readers, this effort is sure to be a hit."
— Kirkus Reviews

"Encouraging emergent readers with progress notes at each chapter's end, this series kickoff introduces a diverse trio of third-grade friends with complementary traits.…Kissi adds a two-color illustration of the trio in action, a fanciful diagram, or a bit of arithmetic to almost every page of the well-paced, well-spaced narrative."
— Booklist