Stick Dog Comes to Town: A Christmas Holiday Book for Kids (Hardcover)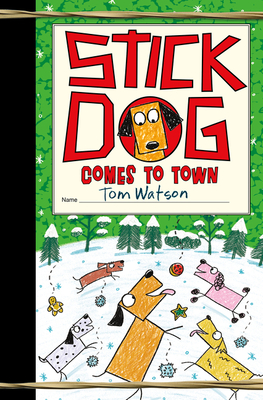 Description
---
Perfect for fans of Big Nate, Diary of a Wimpy Kid, and the previous Stick Dog books, Tom Watson's hilarious series continues with Stick Dog and his pals after something even more exciting than food: Santa Claus!
Weird things are happening in Stick Dog's snow-covered neighborhood. Strangely shaped pinecones hang from trees. Humans sing merry songs all over town. And an odd man is making a list and checking it twice.
Mutt, Karen, Stripes, and Poo-Poo have tons of questions. And for the first time, Stick Dog doesn't have answers. But their good friend Lucy does.
So when the dogs learn all about Santa Claus, their hilarious quest to celebrate the holiday begins.
The bestselling Stick Dog series is perfect for fans of such series as The Last Kids on Earth, Dog Man, Big Nate, Timmy Failure, and Diary of a Wimpy Kid. A favorite of readers ages 6 to 12, both avid and less so, Stick Dog is a winner for those looking for their next funny illustrated middle grade book series.
Other favorites in the series include Stick Dog Wants a Hot Dog, Stick Dog Chases a Pizza, and many more!
About the Author
---
Tom Watson lives in Chicago with his wife, daughter, and son. He also has a dog, as you could probably guess. The dog is a Labrador-Newfoundland mix. Tom says he looks like a Labrador with a bad perm. He wanted to name the dog "Put Your Shirt On" (please don't ask why), but he was outvoted by his family. The dog's name is Shadow. Early in his career Tom worked in politics, including a stint as the chief speechwriter for the governor of Ohio. This experience helped him develop the unique, storytelling narrative style of the Stick Dog books. More important, Tom's time in politics made him realize a very important thing: Kids are way smarter than adults. And it's a lot more fun and rewarding to write stories for them than to write speeches for grown-ups.