The Unforgettable Logan Foster #1 (Paperback)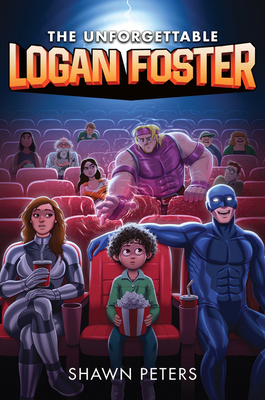 List Price: $9.99
Our Price: $7.99
(Save: $2.00 20%)
Description
---
Packed with superheroes, supervillains, and epic showdowns between good and evil, The Unforgettable Logan Foster from debut author Shawn Peters shows that sometimes being a hero is just about being yourself.
Logan Foster has pretty much given up on the idea of ever being adopted. It could have something to with his awkward manner, his photographic memory, or his affection for reciting curious facts, but whatever the cause, Logan and his "PP's" (prospective parents) have never clicked. 
Then everything changes when Gil and Margie arrive. Although they aren't exactly perfect themselves—Gil has the punniest sense of humor and Margie's cooking would have anyone running for the hills—they genuinely seem to care.
But it doesn't take Logan long to notice some very odd things about them. They are out at all hours, they never seem to eat, and there's a part of the house that is protected by some pretty elaborate security.
No matter what Logan could have imagined, nothing prepared him for the truth: His PP's are actually superheroes, and they're being hunted down by dastardly forces. Logan's found himself caught in the middle in a massive battle and the very fate of the world may hang in the balance. Will Logan be able to find a way to save the day and his new family? 
2024 Illinois Bluestem Reader's Choice Award Nominee
About the Author
---
Shawn Peters has spent more than two decades writing professionally for television and advertising. Married to a super­hero public school teacher and a father of two kids, Shawn is a suburban-dad trope-fest. After years of coaching his kids' teams and playing old-man softball, he now spends his spare time jogging slowly, comparing IPAs with other dads, and making ultra-nerdy Dungeons and Dragons puns on Twitter under the handle @DnDadJokes. 
Praise For…
---
"Peters folds laughs and action aplenty into a winning series opener that features both a ka-pow! premise and a particularly memorable addition to the recent uptick of neurodivergent narrators. 'That,' to quote Logan's mantra, 'is a fact.'" — Booklist (starred review)
"Fun, silly, superheroic chaos." — Kirkus Reviews
"An engaging superhero story with the message that, sometimes, not fitting in and seeing the world differently are gifts that just might help save the planet." — School Library Journal