Bizcocho va a la escuela: Biscuit Goes to School (Spanish edition) (My First I Can Read) (Paperback)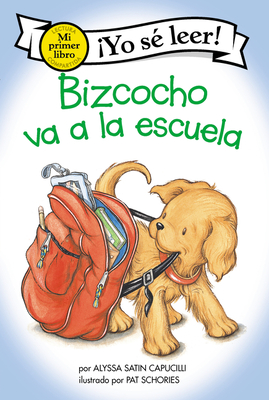 Description
---
Celebrate the 25th anniversary of Biscuit with a Spanish edition of the beloved classic—Bizcocho va a la escuela (Biscuit Goes to School)! 
This high-quality Spanish-language book can be enjoyed by fluent Spanish speakers as well as those learning the language, whether at home or in a classroom.
Un libro con alegres ilustraciones, vocabulario básico, mucha acción, ritmo y repetición. La edición en español de Biscuit Goes to School de la colección Mi primer libro ¡Ya sé leer! es perfecta para los pequeños que están aprendiendo a leer.
Bizcocho quiere ir a la escuela para poder asistir a clase, comer en la cafetería y escuchar un cuento en la biblioteca. ¡Lo que más desea Bizcocho es conocer al maestro! Pero a los perros no se les permite ir a la escuela. ¿Qué pasará cuando el maestro lo descubra?
¡La aventura del pequeño cachorro amarillo captura perfectamente lo emocionante que es el primer día de clases para los niños!
About the Author
---
Alyssa Satin Capucilli is the author of the first story about Tulip and Rex, Tulip Loves Rex, as well as the bestselling Biscuit books and many other beloved children's books. She lives in a book-filled home in Hastings-on-Hudson, New York.
Pat Schories's engaging illustrations of the puppy Biscuit are modeled on her own dog. In addition to having illustrated all the Biscuit books, she is also the artist and author of He's Your Dog and Mouse Around. Ms. Schories lives in Cold Spring, New York.