Reina Ramos encuentra la solución: Reina Ramos Works It Out (Spanish Edition) (I Can Read Level 2) (Paperback)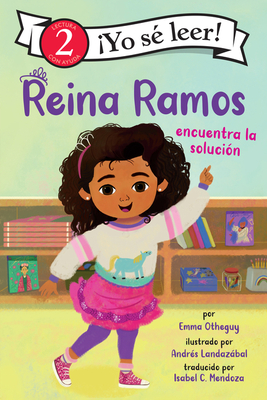 Description
---
This popular Level Two beginning reader title about Reina Ramos dressing up for wax museum day at school is now available in Spanish translation. This Spanish-language book can be enjoyed by fluent Spanish speakers as well as those learning the language, whether at home or in a classroom.
A Reina Ramos la emociona la idea de disfrazarse de Frida Kahlo para el museo de cera que se hará en su clase. Frida fue una persona de carácter firme, como la mamá y la abuela de Reina. Sin embargo, cuando Nora, su mejor amiga, también elige a Frida, Reina no sabe qué hacer. ¿De quién se irá a disfrazar ahora?
Reina Ramos encuentra la solución es un libro ¡Yo sé leer! de nivel dos concebido para los niños que leen solos pero todavía necesitan un poco de ayuda. El libro incluye un glosario y una lista de personalidades famosas mencionadas en el cuento.
About the Author
---
Emma Otheguy writes children's books about Latine identity and Latin American history and literature. She is the author of Martí's Song for Freedom, A Sled for Gabo, and Sofía Acosta Makes a Scene. She coauthored, with Adam Gidwitz, The Unicorn Rescue Society: The Madre de Aguas of Cuba. She holds a PhD in history from New York University and lives in New York City. Visit her at emmaotheguy.com.
Andrés Landazábal is an illustrator and art director based in Colombia. His work has appeared in film, television, and print. Andrés's love for drawing and painting was instilled at a young age by reading classic illustrated children's books. Visit him at andreslandazabal.squarespace.com.