Dragones y tacos (Paperback)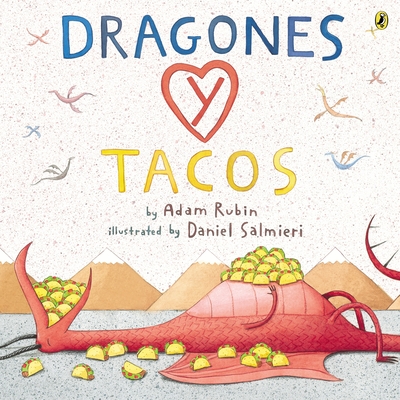 Description
---
Si quieres ser amigo con un dragón, los tacos son la clave.

Todo el mundo sabe que solo hay una cosa que a los dragones les gusta más que las fiestas y los tacos y es una fiesta de tacos. Pero hay algunos detalles que hay que tener en cuenta si das una fiesta de tacos: a los dragones les encantan los tacos de pollo, los de carne, los tacos gigantes y los pequeñitos. Para decidir cuántos tacos vas a necesitar para la fiesta, llena un barco de tacos y esa será la cantidad adecuada. Pero ten muy presente que no debe haber ninguna salsa picante, porque, si no, ¡la cosa se pone verdaderamente en llamas!


Everyone knows that there is only one thing that dragons like more than parties and tacos and it is a party of tacos. But there are some details to keep in mind if you give a party of tacos: dragons love chicken tacos, meat tacos, giant tacos and little ones. To decide how many tacos you will need for the party, fill a boat with tacos and that will be the right amount. But keep in mind that there should not be any hot sauce, because otherwise the thing is really on fire!

The award-winning team behind Those Darn Squirrels! has created an unforgettable, laugh-until-salsa-comes-out-of-your-nose tale of new friends and the perfect snack.

* "Off-kilter fun for those who like their picture books (and salsa) zesty and fresh."—Publishers Weekly, starred review
About the Author
---
Adam Rubin and Daniel Salmieri are the creators of Those Darn Squirrels!, which was a Borders Original Pick.

Adam Rubin (www.whothehell.com) works as a creative director at Firstborn Multimedia. Follow him on Twitter @Rubingo. Adam lives in Barcelona, Spain.

Daniel Salmieri is an artist, illustrator, and author from Brooklyn, NY. He has illustrated twelve picture books including the New York Times best seller, Dragons Love Tacos. Daniel is a regular contributor to several magazines and newspapers including The New Yorker and the New York Times, and works on a wide array of projects from packaging design to branding. He currently lives with his wife, son, and their dog Ronni in New York City.
Praise For…
---
"The perfect book for kids who love dragons and mild tacos."—Kirkus Reviews — Kirkus

"The watercolor, gouache, and colored pencil cartoon illustrations are the real stars here. Regardless of, or perhaps because of, the absurdity of the story, this tale should be a big hit with anyone with an affinity for dragons."—School Library Journal — School Library Journal

Praise for Dragons Love Tacos:

New York Times bestseller
A New York Times Notable Children's Book of 2012
Summer Kids' Indie Next List

"Off-kilter fun for those who like their picture books (and salsa) zesty and fresh."—Publishers Weekly, starred review

"Dragons Love Tacos is a heaping helping of silly. Little kids will relate to the anti-spicy bias and chuckle over Salmieri's watercolor and gouache cartoon illustrations showing literally boatloads of tacos and all sizes of dragons enjoying their favorite food at pool parties, costume parties and, well, taco parties."—San Francisco Chronicle  

"The perfect book for kids who love dragons and mild tacos."—Kirkus Reviews  

"The watercolor, gouache, and colored pencil cartoon illustrations are the real stars here. Regardless of, or perhaps because of, the absurdity of the story, this tale should be a big hit with anyone with an affinity for dragons."—School Library Journal