I Will Protect You: A True Story of Twins Who Survived Auschwitz (Paperback)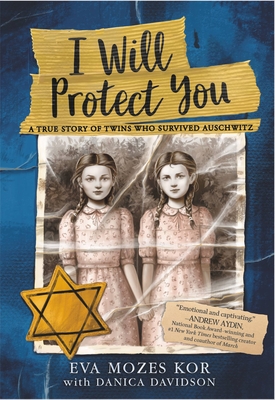 $8.99

Coming Soon - Available for Pre-Order Now
Description
---
The illuminating and deeply moving true story of twin sisters who survived Nazi experimentation, against all odds, during the Holocaust.

Eva and her identical twin sister, Miriam, had a mostly happy childhood. Theirs was the only Jewish family in their small village in the Transylvanian mountains, but they didn't think much of it until anti-Semitism reared its ugly head in their school. Then, in 1944, ten-year-old Eva and her family were deported to Auschwitz. At its gates, Eva and Miriam were separated from their parents and other siblings, selected as subjects for Dr. Mengele's infamous medical experiments.

During the course of the war, Mengele would experiment on 3,000 twins. Only 160 would survive--including Eva and Miriam.

Writing with her friend Danica Davidson, Eva reveals how two young girls were able to survive the unimaginable cruelty of the Nazi regime, while also eventually finding healing and the capacity to forgive. Spare and poignant, I Will Protect You is a vital memoir of survival, loss, and forgiveness.
About the Author
---
The late Eva Mozes Kor founded the CANDLES Holocaust Memorial Museum and Education Center in memory of the twins Mengele murdered, to teach about the Holocaust, and as a testament to the power of forgiveness. She was a community leader, champion of human rights, and tireless educator. A frequent public speaker, Eva was also the subject of a PBS documentary about her life.

Danica Davidson wrote I Will Always Protect You with her friend, Eva Mozes Kor. Danica is the author of sixteen books for children and young adults.
Praise For…
---
"A compelling story of survival."—Booklist

"Bright and compelling, Eva invites young readers to plant flowers of knowledge, love, and acceptance in their own minds. Moving and informative; a powerful resource for Holocaust education."—Kirkus Reviews

"Few Holocaust survivors have had Eva Mozes Kor's impact. Together with Danica Davidson, the story of this young girl is narrated in a manner that I would not have thought possible, faithful to the history and yet accessible to young readers. Read this work and meet a person you will never forget with a story that is worth telling and retelling."—Michael Berenbaum, award-winning author; Professor of Jewish Studies, American Jewish University; and former Director of the United States Holocaust Memorial Museum's Holocaust Research Institute

"Danica Davidson has taken Eva Mozes Kor's story and woven it into a straightforward yet harrowing account of astonishing courage in the face of unspeakable depravity.  An important and powerful contribution to the field of Holocaust literature for children."—Yona Zeldis McDonough, author of The Bicycle Spy and The Doll with the Yellow Star

"I Will Protect You is a well-written memoir, a gripping story of prejudice, hatred, horror and forgiveness.  It belongs on every shelf of books for young readers on the Nazi Holocaust and of books attacking racism."—David A. Adler, award-winning author of The Number On My Grandfather's Arm, We Remember The Holocaust, and many other books

"This riveting eyewitness account of the Nazi horrors, written in a way that a sympathetic young reader can understand, is needed now more than ever, in our present age of growing violence, intolerance and irrational hatred of the Other."—David Small, #1 New York Times bestselling author of Stitches