Pretzel and the Puppies (Paperback)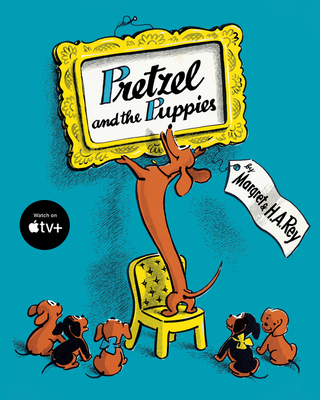 Description
---
From the creators of Curious George, this rediscovered 1946 picture book about a family of dachshunds features newly remastered art. The inspiration for Pretzel and the Puppies, streaming on Apple TV+.
In Margret and H. A. Rey's Pretzel, we met the world's longest dachshund and his wife, Greta. This book picks up where Pretzel left off, after the birth of their five adorable puppies.
In collected comic strips, the Reys explore the drama and comedy of life as a family of seven, and what it means to have a daddy who's sometimes as silly as he is long!
About the Author
---
Hans and Margret Rey created many books during their lives together, including Curious George, one of the most treasured classics of all time, as well as other favorites like Spotty and Pretzel. But it was their rambunctious little monkey who became an instantly recognizable icon. After the Reys escaped Paris by bicycle in 1940 carrying the manuscript for the original Curious George, the book was published in America in 1941. More than 200 Curious George titles followed, with 75 million books sold worldwide. Curious George has been successfully adapted into a major motion picture and an Emmy-winning television show on PBS.
Margret and H. A. Rey created many books during their lives together, including Curious George, one of the most treasured classics of all time, as well as other favorites like Pretzel, Spotty, and Find the Constellations. They had many pets—including two marmoset monkeys that joined them on one of their steamship journeys across the Atlantic. Committed philanthropists in their own lives, a portion of proceeds from each Curious George book sold flows to the Curious George Foundation, which funds programs for children that encourage inquisitiveness in learning and exploring. Curious George has been successfully adapted into a major motion picture and an Emmy-winning television show on PBS and "Pretzel and the Puppies," based on their picture books, is a streaming series on Apple TV+. www.curiousgeorge.com www.pretzelandthepuppies.com