Everyone Loves Bacon (Hardcover)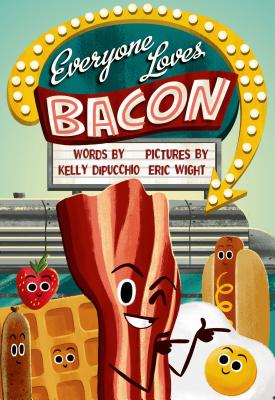 $17.99
Usually Ships in 1-5 Days
Description
---
Egg loves Bacon.
Lettuce loves Bacon.
Waffle loves Bacon.
Bacon is sizzling with popularity.
And pretty much everyone thinks he is the best.
That is-until Bacon's fame goes to his head. He's so busy soaking up the attention, that he soon forgets the important things in life, like friendship and family. How will it all pan out for our dashing, delicious hero?
About the Author
---
Kelly DiPucchio likes her bacon well-done, served with two eggs over easy and a side of rye toast. She is an award-winning author of several children's books, including the New York Times bestsellers Grace for President and The Sandwich Swap. She lives with her husband and three children in southeastern Michigan.

Eric Wight is an author, illustrator, and animation director, whose books for children include the Frankie Pickle series. Eric lives in Chalfont, Pennsylvania, with his family.
Praise For…
---
"Retro art meets wry humor in this very funny tale of hubris set in a diner. Throughout, Wight's expressive illustrations meet DiPucchio's text at every humorous turn as they define the foodstuffs-er, characters with cartoonish panache. A bacon book so funny that perhaps even some vegetarians will love it." —Kirkus Reviews, starred review
"DiPucchio and Wight...tell a comically cautionary story that's worthy of Behind the Music. DiPucchio's short, direct text provides just the right setup for Wight's boisterous, spoofy drawings and egomaniacal star. His bright-eyed anthropomorphism and visual nudges should remind many readers of Veggie Tales at its most supremely silly." —Publishers Weekly
"This story follows the current craze for bacon and imagines Bacon, the character, as a type of matinee idol. Everything has a bright, mid-century, nostalgic look. The various food characters are distinct identities, which are brought to life through the illustrations. Kids will appreciate the clever tone. Many...will want this Bacon on the menu." —School Library Journal