Something Beautiful (Paperback)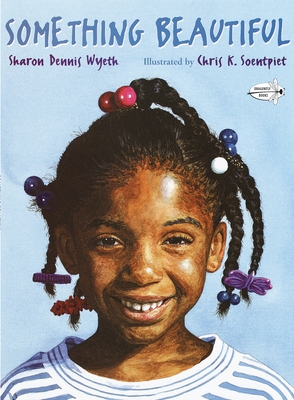 Description
---
A little girl longs to see beyond the scary sights on the sidewalk and the angry scribbling in the halls of her building. When her teacher writes the word beautiful on the blackboard, the girl decides to look for something beautiful in her neighborhood. Her neighbors tell her about their own beautiful things. Miss Delphine serves her a "beautiful" fried fish sandwich at her diner. At Mr. Lee's "beautiful" fruit store, he offers her an apple. Old Mr. Sims invites her to touch a smooth stone he always carries. Beautiful means "something that when you have it, your heart is happy," the girl thinks. Her search for "something beautiful" leaves her feeling much happier. She has experienced the beauty of friendship and the power of hope.
About the Author
---
Sharon Dennis Wyeth, an African American writer and educator born and raised in Washington, D.C., is the author of numerous award-winning books for children and young adults. She is acquainted with the challenges faced by contemporary families both through her own upbringing in Southeast Washington, D.C. and her work experience after college as a family counselor at a daycare center in New York City.

Ms. Wyeth received an A.B. with honors in a combined discipline of sociology, psychology and anthropology from Harvard University and an M.F.A. in Creative Writing from Hunter College. She is the recipient of a Cave Canem Fellowship for African American poets. She is a rotating Associate Visiting Professor in the Graduate Department of Children's Literature at Hollins University in Roanoke, Virginia, and has taught Creative Writing at Fordham University in New York City.

An accomplished public speaker with a background in theater and speech coaching, she is at home with audiences of all ages. Ms. Wyeth has visited numerous schools throughout the United States and abroad sharing her work, her writing process, and her personal story, motivating students to become avid readers and fearless writers. Her themes include literacy, racial harmony, identity, poverty, contemporary families, bullying, resilience, African American history, American history, the search for beauty, and the strength found in community.
Praise For…
---
"This moving picture book offers a shining testament to the ability of human beings to find 'something beautiful' in even the most unlikely places."—Publishers Weekly