Who Was Salvador Dalí? (Who Was?) (Paperback)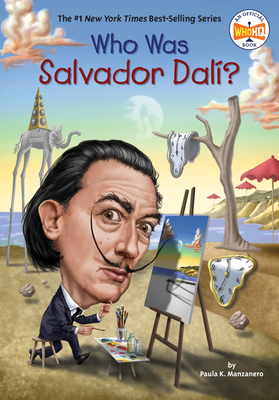 $6.99

Usually Ships in 1-5 Days
Description
---
Learn about the fascinating career of surrealist Salvador Dalí from his early life in Spain through his public life as an internationally famous artist in this exciting addition to the #1 New York Times Best-Selling series.

Most famous for his surrealist painting The Persistence of Memory and its melting clocks, Salvador Dalí combined his dreamlike ideas with his excellent technical skills to become one of the most famous artists of the twentieth century. Beyond painting, Dalí pursued the arts in many other mediums including sculpture, film, fashion, photography, architecture, and more. He was friends with many of his famous contemporaries, including Picasso, Bunuel, Miro, and Duchamp. Learn about the sometimes-shy man with the instantly recognizable upturned mustache in this book for young readers that details the life of one of modern art's most celebrated figures.
About the Author
---
Paula K. Manzanero is the Director of Who HQ and Nonfiction Publishing at Penguin Workshop and a children's book author.

Greg is an award winning illustrator who specializes in representational art and portraiture, as well as historical and horror/fantasy subjects. He paints both digitally and traditionally with oils. In addition to many national publications and bookcover assignments, Greg's work has been awarded by prominent Illustration competitions such as the 'Society of Illustrators' New York, 'Communication Arts Illustration Annual', 'Spectrum Fantasy Art', and '200 Best Illustrators Worldwide'.