I am Jane Goodall (Ordinary People Change the World) (Hardcover)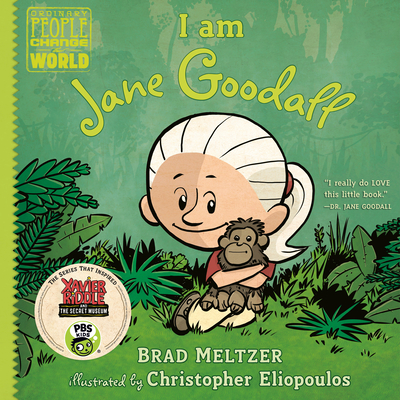 Description
---
We can all be heroes. That's the inspiring message of this New York Times bestselling picture book biography series from historian and author Brad Meltzer. Learn all about Jane Goodall, the chimpanzee scientist.
 
Each picture book in this series is a biography of a significant historical figure, told in a simple, conversational, vivacious way, and always focusing on a character trait that makes the person a role model for kids. The heroes are depicted as children throughout, telling their life stories in first-person present tense, which keeps the books playful and accessible to young children. And each book ends with a line of encouragement, a direct quote, photos, a timeline, and a source list. This tenth book in the series features Jane Goodall, the scientist and conservationist who is famous for her work with chimpanzees. After receiving a stuffed animal chimpanzee for her first birthday, Jane Goodall's love of animals only grew. She saw what humans and animals had in common, not what makes us different, and used that to advocate for animal rights everywhere.
About the Author
---
Brad Meltzer is the New York Times bestselling author of Heroes for My Son, Heroes for My Daughter, and a number of suspense novels for adults. He is also the host of the History Channel television shows Brad Meltzer's Decoded and Lost History. He lives in Florida with his wife and their three children.

Christopher Eliopoulos began his illustration career as a letterer for Marvel, and has worked on thousands of comics, including Franklin Richards: Son of a Genius, Pet Avengers, and Cow Boy, all of which he wrote and illustrated. He lives in New Jersey with his wife and their identical twin sons.