How to Survive Middle School: Science: A Do-It-Yourself Study Guide (HOW TO SURVIVE MIDDLE SCHOOL books) (Paperback)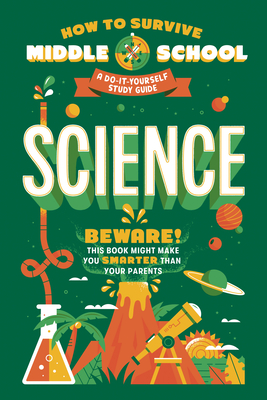 Description
---
BEWARE—THIS BOOK MIGHT MAKE YOU SMARTER THAN YOUR PARENTS! Navigate the wilderness of middle school Science with this hands-on, comprehensive study guide for 6th-8th graders!

This highly illustrated, handy field guide makes learning an adventure inside and outside of the classroom. Study with helpful illustrations, detailed tables, diagrams, and charts, essential vocabulary lists, and expert knowledge presented in a fun, bold, and easy-to-understand format.

Explore and master topics like:

The Scientific Method
The solar Systems
Fossil Fuels and Climate Change
The Periodic Table
Chemical Bonds
Ecosystems
Cells
Speed, Velocity, and Acceleration
Laws of Motion
and more!

The How to Survive Middle School study guides cover essential middle school subjects with interactive texts, useful study techniques, and engaging illustrations that make information stick! The included reflective questions and write-in sections foster critical thinking and problem-solving skills, helping readers become independent learners. Each book is vetted by curriculum experts to perfectly complement middle school lesson plans.

Other available subjects: World History, English, Math, and U.S. History.

About the Author
---
Maria Ter-Mikaelian is a science writer with a Ph.D. in Neuroscience from New York University with eight years of college teaching experience. She has written educational video scripts for the PBS channel It's Okay to be Smart and articles for the children's science magazine Smore. She lives in Brooklyn with her husband, son, and dog.

Rachel Ross is a science writer and educator who lives in Northern California. She holds a Master's degree in astronomy from James Cook University in Australia. Rachel served as a specialist in education and outreach at Las Cumbres Observatory in Southern California, where she also worked as a researcher and an operator of the telescope network.

Carpenter Collective is a graphic design and branding studio led by partners Jessica and Tad Carpenter. They focus on bringing powerful messages to life through branding, packaging, illustration, and design. They have worked with clients ranging from Target, Coca-Cola, and Macy's, to Warby Parker, Adobe, and MTV, among many others. They've earned a national reputation for creating powerful brand experiences and unique visual storytelling with a whimsical wink. See more of their work at carpentercollective.com
Praise For…
---
Praise for the HOW TO SURVIVE MIDDLE SCHOOL series:
 
"Lively prose and an unusually broad scope." —Kirkus Reviews

"The readable text takes a breezy tone and incorporates user-friendly features…chapters are expansively inclusive and represent the viewpoints of those not always heard." —Booklist