The Nazi Hunters: How a Team of Spies and Survivors Captured the World's Most Notorious Nazi (Paperback)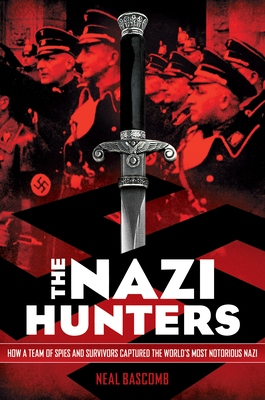 Description
---
A thrilling spy mission, a moving Holocaust story, and a first-class work of narrative nonfiction.
This Sydney Taylor Book Award- and YALSA Excellence in Nonfiction Award-winning story of Eichmann's capture is now a major motion picture starring Oscar Isaac and Ben Kingsley, Operation Finale!
In 1945, at the end of World War II, Adolf Eichmann, the head of operations for the Nazis' Final Solution, walked into the mountains of Germany and vanished from view. Sixteen years later, an elite team of spies captured him at a bus stop in Argentina and smuggled him to Israel, resulting in one of the century's most important trials -- one that cemented the Holocaust in the public imagination.
This is the thrilling and fascinating story of what happened between these two events. Illustrated with powerful photos throughout, impeccably researched, and told with powerful precision, THE NAZI HUNTERS is a can't-miss work of narrative nonfiction for middle-grade and YA readers.
About the Author
---
Neal Bascomb is the author of The Nazi Hunters, winner of the YALSA Excellence in Nonfiction Award in 2014, among numerous other awards. His second young adult book, Sabotage, was called "excellent" in a starred review from School Library Journal. He is also the author of six nonfiction books for adults on subjects ranging from a 1905 Russian submarine mutiny to a contemporary high school robotics team. The Perfect Mile, Winter Fortress, and Hunting Eichmann went on to be New York Times and international bestsellers. Neal lives in Seattle with his family and rascal dog Moses. Please visit his website at www.nealbascomb.com and follow him on Facebook at @nealrbascomb.
Praise For…
---
Praise for The Nazi Hunters:Winner of the YALSA Excellence in Nonfiction AwardWinner of the Sydney Taylor Book Award for Teen Readers"The Nazi Hunters is a fabulously exciting piece of history that teens should know about -- and now they will! Bascomb's detailed scenes allow readers to live through this true tale of courage and daring as if they were there." -- Deborah Heiligman, Printz Honor-winning author of Charles and Emma and Intentions"I found The Nazi Hunters riveting, from its suspenseful search for Eichmann to the capture of the war criminal responsible for orchestrating the murder of eleven million people, including six million Jews. Neal Bascomb's book is incredibly well-researched and paced like an espionage thriller. The hunters' commitment to bringing Eichmann to justice is sure to captivate readers." -- Susan Campbell Bartoletti, Newbery Honor-winning author of Hitler Youth: Growing Up in Hitler's Shadow and The Boy Who Dared"From cafés in Buenos Aires to the halls of the fledgling Israeli government, from false identities to secret drops, this story has all the hallmarks of a spy novel. Bascomb has a knack for turning complex detail into a suspenseful, heart-pounding narrative." -- School Library Journal"Photographs are included throughout the text, adding not just to the evidence of Eichmann's guilt but to the reader's sense of being along on the mission." -- The Horn Book Magazine"Tension rises from the pages, thanks to Bascomb's command of pacing, judicious use of quoted material, inclusion of archival photographs and strong descriptions." -- Kirkus ReviewsPraise for Sabotage: The Mission to Destroy Hitler's Atomic Bomb:"This is an exciting and impeccably researched story of science, spies, and commando raids -- page-turning nonfiction at its best." -- Steve Sheinkin, Newbery Honor-winning author of Bomb: The Race to Build -- and Steal -- the World's Most Dangerous Weapon* "Bascomb is a master of taking complicated histories and turning them into exciting works of nonfiction... This excellent treatise on a little-known episode of World War II is a first choice." -- School Library Journal, starred review"Bascomb's detailed narrative builds tension through each attempt, narrow escape, and comeback…vivid descriptions of the principal participants and their motivations, rigors of Norway's climate and terrain, and the risks calculated (and those unforeseen), producing a gripping account of individual and collective heroic effort." -- Publishers Weekly"The book is enhanced by impressive supplemental material, including a helpful list of participants, photographs, maps, and an intriguing author's note. A rich, well-paced narrative." -- Kirkus Reviews"Bascomb admirably balances dramatic tension and context throughout... Sabotage will find its place in a growing body of narrative nonfiction centering on military and political history." -- Horn Book"Bascomb's clear-eyed account, helped along by photos, maps, and diagrams, of the thrilling mission and its many challenges... will handily engage teens." -- Booklist

Praise for The Nazi Hunters:Winner of the YALSA Excellence in Nonfiction AwardWinner of the Sydney Taylor Book Award for Teen Readers"The Nazi Hunters is a fabulously exciting piece of history that teens should know about -- and now they will! Bascomb's detailed scenes allow readers to live through this true tale of courage and daring as if they were there." -- Deborah Heiligman, Printz Honor-winning author of Charles and Emma and Intentions"I found The Nazi Hunters riveting, from its suspenseful search for Eichmann to the capture of the war criminal responsible for orchestrating the murder of eleven million people, including six million Jews. Neal Bascomb's book is incredibly well-researched and paced like an espionage thriller. The hunters' commitment to bringing Eichmann to justice is sure to captivate readers." -- Susan Campbell Bartoletti, Newbery Honor-winning author of Hitler Youth: Growing Up in Hitler's Shadow and The Boy Who Dared"From cafés in Buenos Aires to the halls of the fledgling Israeli government, from false identities to secret drops, this story has all the hallmarks of a spy novel. Bascomb has a knack for turning complex detail into a suspenseful, heart-pounding narrative." -- School Library Journal"Photographs are included throughout the text, adding not just to the evidence of Eichmann's guilt but to the reader's sense of being along on the mission." -- The Horn Book Magazine"Tension rises from the pages, thanks to Bascomb's command of pacing, judicious use of quoted material, inclusion of archival photographs and strong descriptions." -- Kirkus ReviewsPraise for Sabotage: The Mission to Destroy Hitler's Atomic Bomb:"This is an exciting and impeccably researched story of science, spies, and commando raids -- page-turning nonfiction at its best." -- Steve Sheinkin, Newbery Honor-winning author of Bomb: The Race to Build -- and Steal -- the World's Most Dangerous Weapon* "Bascomb is a master of taking complicated histories and turning them into exciting works of nonfiction... This excellent treatise on a little-known episode of World War II is a first choice." -- School Library Journal, starred review"Bascomb's detailed narrative builds tension through each attempt, narrow escape, and comeback…vivid descriptions of the principal participants and their motivations, rigors of Norway's climate and terrain, and the risks calculated (and those unforeseen), producing a gripping account of individual and collective heroic effort." -- Publishers Weekly"The book is enhanced by impressive supplemental material, including a helpful list of participants, photographs, maps, and an intriguing author's note. A rich, well-paced narrative." -- Kirkus Reviews"Bascomb admirably balances dramatic tension and context throughout... Sabotage will find its place in a growing body of narrative nonfiction centering on military and political history." -- Horn Book"Bascomb's clear-eyed account, helped along by photos, maps, and diagrams, of the thrilling mission and its many challenges... will handily engage teens." -- Booklist