Sabotage: The Mission to Destroy Hitler's Atomic Bomb (Scholastic Focus) (Paperback)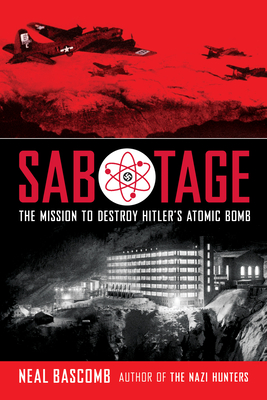 Description
---
A stunning adventure involving Nazis, nukes, fighting, failure, and everyday heroes, from the author of the award-winning
The Nazi Hunters
.
Neal Bascomb delivers another nail-biting work of nonfiction for young adults in this incredible true story of spies and survival.
The invasion begins at night, with German cruisers slipping into harbor, and soon the Nazis occupy all of Norway. They station soldiers throughout the country. They institute martial rule. And at Vemork, an industrial fortress high above a dizzying gorge, they gain access to an essential ingredient for the weapon that could end World War II: Hitler's very own nuclear bomb.
When the Allies discover the plans for the bomb, they agree Vemork must be destroyed. But after a British operation fails to stop the Nazis' deadly designs, the task falls to a band of young Norwegian commandos. Armed with little more than skis, explosives, and great courage, they will survive months in the snowy wilderness, elude a huge manhunt, and execute two dangerous missions. The result? The greatest act of sabotage in all of World War II.
About the Author
---
Neal Bascomb is the author of The Race of the Century: The Battle to Break the Four-Minute Mile, which Kirkus Reviews calls a "gripping narrative nonfiction tale" and The Nazi Hunters, winner of the YALSA Excellence in Nonfiction Award, among numerous other awards. School Library Journal called his second young adult book, Sabotage, "excellent" in a starred review and The Grand Escape a "fantastic pick for avid history readers" also in a starred review. His book The Racers was named a BCCB Blue Ribbon Book and a starred review from School Library Journal called The Racers "Highly Recommended." In addition, he is the author of six nonfiction books for adults on subjects ranging from a 1905 Russian submarine mutiny to a contemporary high school robotics team. The Perfect Mile, Winter Fortress, and Hunting Eichmann went on to be New York Times and international bestsellers. Neal lives in Philadelphia with his family and rascal dog, Moses. Please visit his website at nealbascomb.com and follow him on Facebook @nealrbascomb.
Praise For…
---
Praise for Sabotage:
"This is an exciting and impeccably researched story of science, spies, and commando raids -- page-turning nonfiction at its best." -- Steve Sheinkin, Newbery Honor-winning author of Bomb: The Race to Build -- and Steal -- the World's Most Dangerous Weapon
* "Bascomb is a master of taking complicated histories and turning them into exciting works of nonfiction... This excellent treatise on a little-known episode of World War II is a first choice." -- School Library Journal, starred review
"Bascomb's detailed narrative builds tension through each attempt, narrow escape, and comeback...vivid descriptions of the principal participants and their motivations, rigors of Norway's climate and terrain, and the risks calculated (and those unforeseen), producing a gripping account of individual and collective heroic effort." -- Publishers Weekly
"The book is enhanced by impressive supplemental material, including a helpful list of participants, photographs, maps, and an intriguing author's note. A rich, well-paced narrative." -- Kirkus Reviews
"Bascomb admirably balances dramatic tension and context throughout... Sabotage will find its place in a growing body of narrative nonfiction centering on military and political history." -- Horn Book
"Bascomb's clear-eyed account, helped along by photos, maps, and diagrams, of the thrilling mission and its many challenges... will handily engage teens." -- Booklist
Praise for The Nazi Hunters:
Winner of the YALSA Excellence in Nonfiction Award
Winner of the Sydney Taylor Book Award for Teen Readers
"The Nazi Hunters is a fabulously exciting piece of history that teens should know about -- and now they will! Bascomb's detailed scenes allow readers to live through this true tale of courage and daring as if they were there." -- Deborah Heiligman, Printz Honor-winning author of Charles and Emma and Intentions
"I found The Nazi Hunters riveting, from its suspenseful search for Eichmann to the capture of the war criminal responsible for orchestrating the murder of eleven million people, including six million Jews. Neal Bascomb's book is incredibly well-researched and paced like an espionage thriller. The hunters' commitment to bringing Eichmann to justice is sure to captivate readers." -- Susan Campbell Bartoletti, Newbery Honor-winning author of Hitler Youth: Growing Up in Hitler's Shadow and The Boy Who Dared
"From cafés in Buenos Aires to the halls of the fledgling Israeli government, from false identities to secret drops, this story has all the hallmarks of a spy novel. Bascomb has a knack for turning complex detail into a suspenseful, heart-pounding narrative." -- School Library Journal
"Photographs are included throughout the text, adding not just to the evidence of Eichmann's guilt but to the reader's sense of being along on the mission." -- The Horn Book Magazine
"Tension rises from the pages, thanks to Bascomb's command of pacing, judicious use of quoted material, inclusion of archival photographs and strong descriptions." -- Kirkus Reviews
Praise for The Grand Escape:
* "Bascomb does an extraordinary job of bringing the principal escapees to life. . . . His account of the Herculean task of digging the tunnel is fascinating, viscerally evoking the claustrophobic act. He also invests his account with page-turning suspense and colorful detail. The narrative is enhanced by the inclusion of generous period photographs and contemporary maps and charts. Altogether the book is a marvel of research and an example of narrative nonfiction at its finest. It's a grand adventure." -- Booklist, starred review
* "Suspenseful reading, enhanced by diagrams and photographs. A fine escapade related with proper drama and likely to be news even to well-read young historians." -- Kirkus Reviews, starred review
* "It is a tale of triumph that became a template for future prisoners of war, and Bascomb's heavy, well-cited research provides the information readers need. . . . A fantastic pick for avid history readers." -- School Library Journal, starred review
"Plenty of photographs put faces to the escapees, and diagrams and maps illuminate the prison layout, tunnel, and destinations for border crossing. An introductory 'List of Participants' is handy for reader review, and sources notes, bibliography, and index direct readers pursuing research. This, however, is a real-life thriller that's too compelling to relegate merely to World War I report writers." -- Bulletin of the Center for Children's Books
"An excellent piece of history presented in a readable, entertaining format." -- School Library Connection
Praise for Sabotage:
"This is an exciting and impeccably researched story of science, spies, and commando raids -- page-turning nonfiction at its best." -- Steve Sheinkin, Newbery Honor-winning author of Bomb: The Race to Build -- and Steal -- the World's Most Dangerous Weapon
* "Bascomb is a master of taking complicated histories and turning them into exciting works of nonfiction... This excellent treatise on a little-known episode of World War II is a first choice." -- School Library Journal, starred review
"Bascomb's detailed narrative builds tension through each attempt, narrow escape, and comeback...vivid descriptions of the principal participants and their motivations, rigors of Norway's climate and terrain, and the risks calculated (and those unforeseen), producing a gripping account of individual and collective heroic effort." -- Publishers Weekly
"The book is enhanced by impressive supplemental material, including a helpful list of participants, photographs, maps, and an intriguing author's note. A rich, well-paced narrative." -- Kirkus Reviews
"Bascomb admirably balances dramatic tension and context throughout... Sabotage will find its place in a growing body of narrative nonfiction centering on military and political history." -- Horn Book
"Bascomb's clear-eyed account, helped along by photos, maps, and diagrams, of the thrilling mission and its many challenges... will handily engage teens." -- Booklist
Praise for The Nazi Hunters:
Winner of the YALSA Excellence in Nonfiction Award
Winner of the Sydney Taylor Book Award for Teen Readers
"The Nazi Hunters is a fabulously exciting piece of history that teens should know about -- and now they will! Bascomb's detailed scenes allow readers to live through this true tale of courage and daring as if they were there." -- Deborah Heiligman, Printz Honor-winning author of Charles and Emma and Intentions
"I found The Nazi Hunters riveting, from its suspenseful search for Eichmann to the capture of the war criminal responsible for orchestrating the murder of eleven million people, including six million Jews. Neal Bascomb's book is incredibly well-researched and paced like an espionage thriller. The hunters' commitment to bringing Eichmann to justice is sure to captivate readers." -- Susan Campbell Bartoletti, Newbery Honor-winning author of Hitler Youth: Growing Up in Hitler's Shadow and The Boy Who Dared
"From cafés in Buenos Aires to the halls of the fledgling Israeli government, from false identities to secret drops, this story has all the hallmarks of a spy novel. Bascomb has a knack for turning complex detail into a suspenseful, heart-pounding narrative." -- School Library Journal
"Photographs are included throughout the text, adding not just to the evidence of Eichmann's guilt but to the reader's sense of being along on the mission." -- The Horn Book Magazine
"Tension rises from the pages, thanks to Bascomb's command of pacing, judicious use of quoted material, inclusion of archival photographs and strong descriptions." -- Kirkus Reviews
Praise for The Grand Escape:
* "Bascomb does an extraordinary job of bringing the principal escapees to life. . . . His account of the Herculean task of digging the tunnel is fascinating, viscerally evoking the claustrophobic act. He also invests his account with page-turning suspense and colorful detail. The narrative is enhanced by the inclusion of generous period photographs and contemporary maps and charts. Altogether the book is a marvel of research and an example of narrative nonfiction at its finest. It's a grand adventure." -- Booklist, starred review
* "Suspenseful reading, enhanced by diagrams and photographs. A fine escapade related with proper drama and likely to be news even to well-read young historians." -- Kirkus Reviews, starred review
* "It is a tale of triumph that became a template for future prisoners of war, and Bascomb's heavy, well-cited research provides the information readers need. . . . A fantastic pick for avid history readers." -- School Library Journal, starred review
"Plenty of photographs put faces to the escapees, and diagrams and maps illuminate the prison layout, tunnel, and destinations for border crossing. An introductory 'List of Participants' is handy for reader review, and sources notes, bibliography, and index direct readers pursuing research. This, however, is a real-life thriller that's too compelling to relegate merely to World War I report writers." -- Bulletin of the Center for Children's Books
"An excellent piece of history presented in a readable, entertaining format." -- School Library Connection