The Sleepover (Paperback)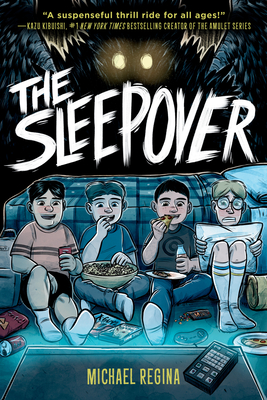 Description
---
Perfect for fans of Stranger Things, this middle grade graphic novel follows a group of kids trying to cheer up their friend after a recent loss with a fun-filled sleepover, but their plans soon take a dark turn when they discover his new nanny may literally be a monster.

When the Russo family returns home from vacation to discover their nanny, Ruby, has unexpectedly passed away, Matthew takes the news the hardest. After weeks of reeling, his three best friends decide to cheer him up with a night of junk food, prank calls, and scary movies. But their plans for a sleepover are jeopardized when Matt's single mother—unable to take any more time off of work—is forced to hire a new nanny on the fly to watch over Matt and his younger sister, Judy.

Miss Swan, however, is all too happy to have the boys over. And although she seems like the perfect babysitter, letting the kids eat whatever they want and mostly leaving them alone, there's something about her that Matt doesn't trust. He thinks she may actually be the witch from local legend—the one who torments children into the night and then eats them. Is he just having a hard time dealing with Ruby's replacement, as his friends suspect? Has he watched one too many scary movies, as his mom fears? Or are he and his horror-buff friends in for the fright of their lives as they come face-to-face with a real monster?
About the Author
---
Michael Regina has been drawing comics since the third grade, and his passion for art and storytelling has stayed with him his whole life. He studied painting and drawing at the University of North Florida and minored in literature. Michael is also the creator of the Webtoons Featured Comic Adamsville. When he's not making comics, he loves fishing, begrudgingly rooting for the Jacksonville Jaguars, and spending time with his family. They all live in Jacksonville, Florida. You can visit him at michaeleregina.com.
Praise For…
---
"A suspenseful thrill ride for all ages!" —Kazu Kibuishi, #1 New York Times bestselling creator of the Amulet series

"With its sharp dialog and beautiful, suspenseful storytelling, The Sleepover will have kids both excited and horrified about the next time they spend the night at a friend's house." —Mike Maihack, creator of the Cleopatra in Space series
 
"The Sleepover masterfully combines a spine-chilling story with so much heart that kids as well as adults will find it's hard to put down. —Chris Grine, co-creator of the Animorphs graphic novel series
 
"The Sleepover reminds us we need others to overcome the monsters in our lives." —Stephen McCranie, creator of the Space Boy and the Mal and Chad series

"The '90s setting captures the feel of vintage horror. An excellent flashlight-under-the-blanket read." —Kirkus Reviews

"The kids, all geared up to fight a supernatural being, bring a Stranger Things vibe to the action-packed story. Shadowy art ominously peppered with crows and cut with flashlight beams creates an eerie atmosphere. Kids after a spooky, backyard adventure will find plenty to enjoy." —Booklist

"A touching meditation on the loss of a caregiver that explores grief that grows monstrous. This graphic novel offers spooky entertainment and a serious message." —School Library Journal