Cuenta con Dr. Seuss 1 2 3 (Dr. Seuss's 1 2 3 Spanish Edition) (Beginner Books(R)) (Hardcover)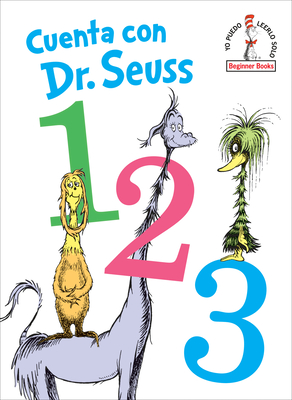 Description
---
¡Un libro para aprender a contar, en español y rimado, creado por Dr. Seuss e ilustrado con dibujos de sus libros!

¡Cuenta con Dr. Seuss y aprende los números mientras te diviertes! Este sencillo y rítmico riff acerca de contar está ilustrado con los dibujos de algunos de sus libros más queridos, entre otros: Un pez, dos peces, pez rojo, pez azul; El Gato Ensombrerado y ¡Yo puedo leer con los ojos cerrados! Pensado para los lectores principiantes, y para los que están aprendiendo a contar, ¡este libro es ideal para fomentar el amor por los números y por las historias de Dr. Seuss!
 
Creada por Dr. Seuss, la colección de libros para primeros lectores (Beginner Books) anima a los niños a leer solos con palabras sencillas y divertidos dibujos que dan sentido a la lectura.

Las ediciones rimadas en español de los clásicos de Dr. Seuss, publicadas por Random House, brindan la maravillosa oportunidad de disfrutar de sus historias a más de treinta y ocho millones de personas hispanohablantes en Estados Unidos. Los lectores podrán divertirse con las ediciones en español de The Cat in the Hat (El Gato Ensombrerado); Green Eggs and Ham (Huevos verdes con jamón); One Fish, Two Fish, Red Fish, Blue Fish (Un pez, dos peces, pez rojo, pez azul); The Lorax (El Lórax); Oh, the Places You'll Go! (¡Oh, cuán lejos llegarás!); How the Grinch Stole Christmas! (¡Cómo el Grinch robó la Navidad!); The Cat in the Hat Comes Back (El Gato Ensombrerado ha regresado); I Can Read with My Eyes Shut! (¡Yo puedo leer con los ojos cerrados!); Horton Hears a Who! (¡Horton escucha a Quién!); The 500 Hats of Bartholomew Cubbins (Los 500 sombreros de Bartolomé Cubbins); There's a Wocket in My Pocket! (¡Hay un Molillo en mi Bolsillo!); Mr. Brown Can Moo! Can You? (¡El Sr. Brown hace Muuu! ¿Podrías hacerlo tú?); Ten Apples Up on Top! (¡Diez manzanas en la cabeza!); What Pet Should I Get? (¿Cómo podré decidir qué mascota elegir?); Yertle the Turtle and Other Stories (Yoruga la Tortuga y otros cuentos); Oh, the Thinks You Can Think! (¡Oh, piensa en todo lo que puedes pensar!); The Foot Book! (¡Cuántos, cuántos pies!); Happy Birthday to You! (¡Feliz cumpleaños!); Come Over to My House (Ven a mi casa); Dr. Seuss's Sleep Book (¡Dormilones!); Would You Rather Be a Bullfrog? (¿Preferirías ser una rana?); Horton Hatches the Egg (Horton cuida un nido) y Dr. Seuss's 1  2  3 (Cuenta con Dr. Seuss 1  2  3).

A rhymed Spanish concept book about counting, inspired by Dr. Seuss and illustrated with artwork from his books!

Count on Dr. Seuss to make learning numbers fun! This simple, rhymed riff about counting is illustrated with art from some of his most beloved works, including One Fish, Two Fish, Red Fish, Blue Fish; The Cat in the Hat, and I Can Read with My Eyes Shut! Great for the earliest reader—and beginning counter—it's perfect for nurturing a love of numbers and of Dr. Seuss!
About the Author
---
THEODOR SEUSS GEISEL es uno de los autores de literatura infantil más queridos de todos los tiempos. Sus personajes icónicos, historias y estilo artístico han inspirado a generaciones de niños y adultos. Los libros que escribió e ilustró bajo el nombre de Dr. Seuss (y otros que escribió, pero no ilustró, bajo los seudónimos Theo. LeSieg y Rosetta Stone) han sido traducidos a cuarenta y cinco idiomas. Sus libros han llegado a millones de hogares alrededor del mundo. Entre los numerosos premios que Dr. Seuss ha recibido sobresalen Honores Caldecott, el Premio Pulitzer, y ocho doctorados honorarios. Obras basadas en sus historias originales han ganado tres premios Oscar, tres premios Emmy, tres premios Grammy, y un Peabody.

THEODOR SEUSS GEISEL—aka Dr. Seuss—is one of the most beloved children's book authors of all time. From The Cat in the Hat to Oh, the Places You'll Go!, his iconic characters, stories, and art style have been a lasting influence on generations of children and adults. The books he wrote and illustrated under the name Dr. Seuss (and others that he wrote but did not illustrate, including some under the pseudonyms Theo. LeSieg and Rosetta Stone) have been translated into 45 languages. Hundreds of millions of copies have found their way into homes and hearts around the world. Dr. Seuss's long list of awards includes Caldecott Honors, the Pulitzer Prize, and eight honorary doctorates. Works based on his original stories have won three Oscars, three Emmys, three Grammys, and a Peabody.