Imogene Comes Back! (Hardcover)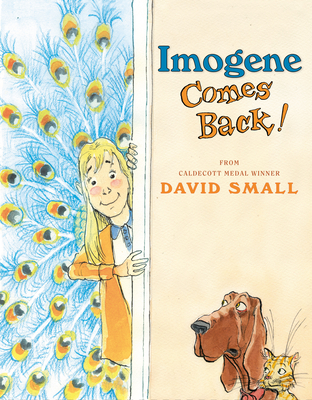 Description
---
35 years after Imogene woke up with antlers, she's back! The follow up to the classic, Imogene's Antlers by Caldecott Award winning David Small.

One day, Imogene woke up to discover that she had sprouted antlers overnight. Her family was confused, her mother was distraught and there was no explanation. Then she woke up the next day and they were gone, but were replaced by something just as curious.

Now Imogene has found she has a new curious feature every day. Some are helpful, some are sweet, some are downright strange. But all of them upset her poor mother who just can't handle how improper it all is. Yet even as Imogene discovers something new every day, she always remains Imogene at heart.

David Small returns to one of his most beloved characters in this charming tale.
About the Author
---
David Small was born and raised in Detroit. His drawings have appeared in The New Yorker and The New York Times. He is a two time Caldecott Honor Winner for The Gardener, written by his wife Sarah Stewart and One Cool Friend by Toni Buzzeo and a Caldecott Winner for So, You Want To Be President? by Judith St. George. His work ranges from picture books to graphic novels and has been awarded a National Book Award finalist (Stitches and The Underneath), the Christopher Award (That Book Woman and The Gardener), ABBY Award Honor Book (The Gardener and The Library), The New York Times Outstanding Book of the Year (The Library), and a Featured Selection for more than 10 years on Reading Rainbow (Imogene's Antlers). He lives in southwest Michigan with his wife.