Mindfulness Activities for Kids (And Their Grown-ups): Learn Calm, Focus, and Gratitude for a Lifetime (Paperback)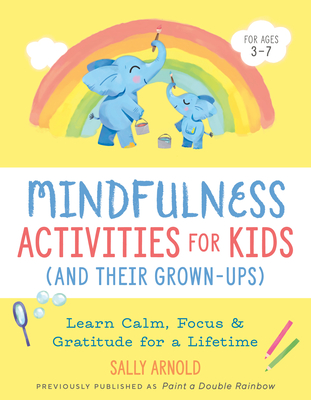 Description
---
Mindfulness Activities Kids can do with their Grown-ups to be Focused, Peaceful, and Grateful together!

Mindfulness reduces anxiety and stress, improves focus, and creates calm--all attributes parents want for their kids. But what's the best way to teach it to your child?

Mindfulness Activities for Kids (And Their Grown-ups) provides 40 mindfulness activities for you and your child to do together, so you both reap the benefits as you develop a deeper connection. Whether you're savoring silent sandwiches, sharing moonlight gratitudes, or taking a chalk walk, this charming book helps you develop a mindful toolbox, incorporate mindfulness into your daily lives, and create deep and lasting bonds.

Together, you can have fun exploring...

• A CLEAR GUIDE TO MINDFULNESS and its benefits
• STRESS- AND ANXIETY BUSTERS through breathing, strengthening your senses, focusing, being kind, imagining, and relaxing
• CREATIVE ACTIVITIES that teach mindfulness and transform everyday interactions into better health for both of you

Best of all, you and your child will develop powerful mindfulness habits for a lifetime.
About the Author
---
Sally Arnold is a mindfulness educator, speaker, author, and parenting coach. She is the founder of Mindful Compass, an organization that offers courses designed for families, corporations, and general audiences. Sally has taught mindfulness to thousands of children and implemented whole school mindfulness programs. Discover more about her and Mindful Compass at mindfulcompass.com.
Praise For…
---
"Mindfulness Activities for Kids (And Their Grown-ups) is a fantastic support for teaching mindful awareness to your kids. The activities are simple, intuitive, and creative, and the format itself allows any parent to just jump right in and start." —Chris McKenna, Education Program Officer, Mindful.org

"Sally Arnold has created such a treasure with Mindfulness Activities for Kids (And Their Grown-ups)! This book will bring mindfulness into the family experience in a way that kids will love. The best part is that this book will not only support your kids' well-being, it will also support your well-being. A must have for any family library!" —JG Larochette, founder and director, Mindful Life Project (mindfullifeproject.org)

"Mindfulness Activities for Kids (And Their Grown-ups) is a wonderful, practical resource for cultivating more resilience in our kids, families, and communities!" —Dr. Christopher Willard, PsyD, author of Alphabreaths: The ABCs of Mindful Breathing and other mindfulness books 

"Mindfulness Activities for Kids (And Their Grown-ups) is a joyful compilation of short, simple, tender, playful, and creative mindful and heart-full practices for parents (and other adults) to do with young children. It conveys the essence of mindfulness via practices that can be shared easily in the midst of daily life. If you are interested in slowing down, connecting with yourself, and offering the children in your life essential life-long skills, this book is for you." —Amy Saltzman, MD, author of A Still Quiet Place: A Mindfulness Program for Teaching Children and Adolescents to Ease Stress and Difficult Emotions and creator of the Still Quiet Place: Mindfulness for Young Children CD

"What a wonderful book for the whole family, filled with playful and creative activities that I can see being used at any age. So many aspects of mindfulness are covered in its pages: from the value of the breath to the importance of kindness and so much more. A real gift to any family's resource library. Its beautiful layout and imaginative yet straightforward practices are very inviting and easily implemented. I highly recommend this book!" —Andrew Jordan Nance, author of Puppy Mind, The Lion in Me, The Barefoot King, and Mindful Arts in the Classroom