Grumpy Monkey Ready, Set, Bananas! (Step into Reading) (Paperback)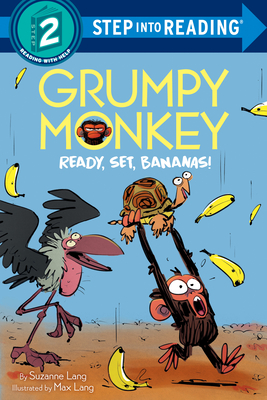 Description
---
Funny monkey Jim Panzee, star of the #1 New York Times bestselling series, is reluctant to join the race in the jungle until banana after banana falls from above.


Jim Panzee 's plans for a quiet morning nap are interrupted by Tortoise's plea to join him in the jungle race. This makes Grumpy Monkey even grumpier but he reluctantly agrees. Then one of the runners bumps into a tree and bananas come raining down! The race to the finish is over as everyone, including Grumpy Monkey, races to get the biggest share of bananas.

Easy-to-read words and colorful illustrations will hook young readers on the lifelong habit of reading.

Step 2 readers use basic vocabulary and short sentences to tell simple stories. They are perfect for children who recognize familiar words and can sound out new words with help.

About the Author
---
SUZANNE LANG produces, develops, and writes children's television. Formerly with Cartoon Network, she is presently the story editor of an animated comedy series for Cake Entertainment and Copa Studios. Suzanne has a BFA in film and television from NYU's Tisch School of the Arts.

MAX LANG is an animation director, storyboard artist, character designer, and illustrator. He codirected the adaptation of The Gruffalo, which was nominated for an Oscar and a BAFTA, as well as the adaptation of the picture book Room on the Broom, which has won numerous awards, including the Cristal for Best TV Production at the Annecy Animation Festival.