Girl Overboard (Paperback)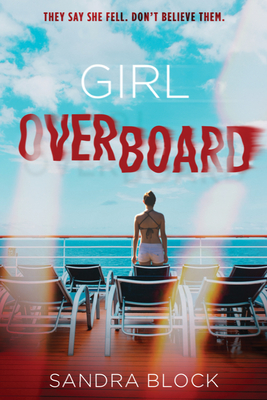 Description
---
This fast-paced thriller about a girl who investigates her friend's disappearance during their cruise ship vacation is Ruth Ware's The Woman in Cabin 10 for teens—and it's a paperback original!

When Izzy meets Jade on a cruise to Bermuda, her new daredevil friend turns Izzy's boring family vacation into the trip of a lifetime. Until Jade goes missing.
 
The investigators claim Jade fell overboard, but Izzy knows better. Her friend had secrets—secrets that might have gotten her killed. As Izzy digs deeper into Jade's disappearance, she realizes that someone doesn't want her to find the truth. And if she's not careful, Izzy might not get off this ship alive.

Underlined is a line of totally addictive romance, thriller, and horror paperback original titles coming to you fast and furious each month. Enjoy everything you want to read the way you want to read it.
About the Author
---
Sandra Block graduated from college at Harvard, then returned to her native land of Buffalo, New York for medical training and never left. She is a practicing neurologist and proud Sabres fan, and lives at home with her husband, two children, and impetuous yellow lab. She is the author of acclaimed thrillers Little Black Lies, The Girl Without a Name, The Secret Room, and What Happened That Night. Girl Overboard is her first novel for teens.

Praise For…
---
"A riveting, melodramatic mystery for true-crime fans."--Kirkus Reviews

"This YA debut is a quick page turner with a lot of action to keep readers engaged... Fans of thrillers will enjoy this breezy but gritty read."--School Library Journal

"Girl Overboard kept me turning the pages. I finished it one sitting, rooting for Izzy the whole time.  I felt like I was on board the cruise ship with her, taking part in the fun and trying to escape the very real danger."--April Henry, New York Times bestselling author of Two Truths and a Lie