La primera pijamada de Uni (Unicornio uni)(Uni the Unicorn Uni's First Sleepover Spanish Edition) (LEYENDO A PASOS (Step into Reading)) (Paperback)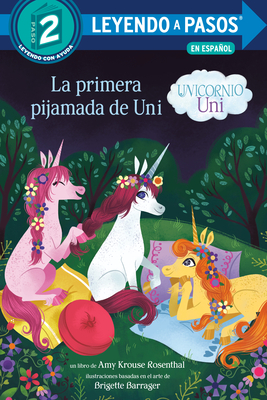 Description
---
¡Presentando a Unicornio Uni EN ESPAÑOL! En esta edición en español del álbum ilustrado Paso 2, Uni y sus amigos se embarcan en una pijamada mágica y llena de diversión.

¡Sigue a Uni en esta edición en español de su primera aventura de LEYENDO A PASOS! En este libro Paso 2, Uni tiene su primera pijamada. Los otros unicornios ya han ido a otras pijamadas y se saben MUCHOS juegos mágicos. Los juegos son difíciles para Uni y, al llegar la hora de irse a dormir, Uni no se está divirtiendo. ¿Podrá Uni encontrar la manera de aportar a la diversión?

LEYENDO A PASOS es una línea de Step into Reading que ofrece ediciones en español de libros nivelados. Los libros Paso 2 usan vocabulario básico y enunciados cortos para contar historias sencillas. Son perfectos para pequeños que identifican algunas palabras visualmente y logran leer palabras nuevas con un poco de ayuda.

Introducing Uni the Unicorn EN ESPAÑOL! In this Spanish edition of the Step 2 reader, Uni and friends go on a magical, fun-filled sleepover.

Join Uni the Unicorn in this Spanish edition of Uni's Step into Reading adventure! In this Step 2 book, it's Uni's very first sleepover! The other unicorns have been to sleepovers before, and have learned LOTS of magical games. Uni struggles with game after game, and by bedtime, Uni isn't having a very good time. Will Uni find a way to contribute to the fun?

LEYENDO A PASOS is a line from Step into Reading offering leveled readers in Spanish. Step 2 readers use basic vocabulary and short sentences to tell simple stories. They are perfect for children who recognize familiar words and can sound out new words with help.
About the Author
---
AMY KROUSE ROSENTHAL (1965-2017) was a Chicago-based author of numerous award-winning books for both children and adults, a short filmmaker, and popular essayist.

CANDICE RANSOM, who has never wanted to be anything besides a children's book writer, has published 110 award-winning books for children and young adults. She teaches in the children's literature program at Hollins University. Candice lives in Fredericksburg, Virginia, with her husband and her cat, Atticus.

BRIGETTE BARRAGER graduated from CalArts with a BFA in character animation in 2007. She likes tea and books and general old lady-ish stuff, and hates when people's toes hang over the edge of their sandals. Visit her at brigetteb.blogspot.com.