Bate bate, ¡disparate! Mad Libs: ¡El mejor juego de palabras del mundo! (Mad Libs en español) (Paperback)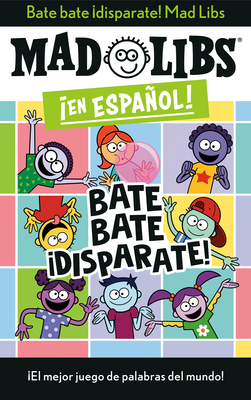 Description
---
Mad Libs es el juego de palabras más grande del mundo, ¡y un gran regalo para cualquiera que disfrute de la risa! Completa las palabras que faltan en cada página para crear tus propias y graciosas historias en español. Como los primeros Mad Libs escritos totalmente en español, ¡de seguro este libro te hará VERBO con entusiasmo!

Con historias de 21 espacios en blanco para completar y escritas originalmente en español, este Mad Libs mantendrá a todos riéndose en el vecindario, sin importar el idioma que hable. Se puede jugar individualmente, en grupo o en una fiesta. Mad Libs es una actividad familiar divertida, recomendada de 8 a NÚMERO año/s de edad.





Mad Libs is the world's greatest word game and a great gift for anyone who likes to laugh! Write in the missing words on each page to create your own hilariously funny stories all in Spanish. As the very first Mad Libs written entirely in Spanish, this book is sure to make you VERB hurra!

With 21 "fill-in-the-blank" stories written en español, this Mad Libs will keep everyone laughing no matter what language you speak. Play alone, in a group, or at a fiesta. Mad Libs are a fun family activity recommended for ages 8 to NUMBER.
About the Author
---
Yanitzia Canetti es la presidenta de Cambridge BrickHouse, Inc. Yanitzia se desempeña como consultora literaria, escritora y traductora para las principales editoriales. Experta tanto en libros para el mercado general como para el sector educativo, es la autora de más de 500 libros. En el 2011, fue elegida por la revista People en español como una de las 25 Mujeres Hispanas Más Poderosas del Mundo.




Yanitzia Canetti is the head of Brickhouse Learning. Yanitzia works as a literary consultant, writer, and translator across all major publishing houses. An expert in both the trade and educational markets, she has published over 500 books in Spanish. In 2011, she was selected by People magazine as one of the 25 Most Powerful Hispanic Women of the World.