What Was the Tulsa Race Massacre of 1921? (What Was?) (Paperback)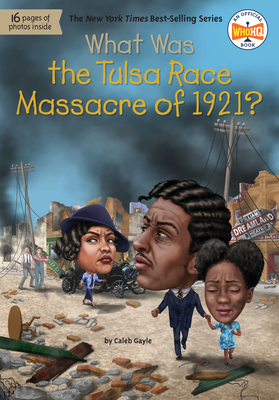 Description
---
Learn how envy and racism led to the tragic destruction of the thriving Black community in Tulsa, Oklahoma, in this thought-provoking addition to the New York Times bestselling What Was? series!

Before May 31, 1921, the Greenwood District of Tulsa, Oklahoma, was a flourishing neighborhood of 10,000 Black residents. There, Black families found success and community. They ran their own businesses, including barbershops, clothing stores, jewelers, restaurants, movie theatres, and more. There also were Black doctors, dentists, and lawyers to serve the neighborhood. Then, in one weekend, all of this was lost. A racist mob tore through the streets, burning everything to the ground and killing scores of innocent residents. Learn about what led to one of the worst moments of racial violence in America's history in this nonfiction book for young readers.
About the Author
---
Caleb Gayle is an award-winning journalist and historian who writes about race and identity. His writing has appeared in The New York Times Magazine, The Atlantic, The Guardian, Guernica, and other publications. He has an adult trade book with Riverhead called We Refuse To Forget: A True Story of Black Creeks, American Identity, and Power that was published in 2022.

Tim Foley is a freelance illustrator whose work has been featured in several Who HQ titles including What Is the AIDS Crisis?, What Was the Harlem Renaissance?, Where Is Hollywood?, and Who Was Edgar Allan Poe? He currently lives and works in Grand Rapids, Michigan, with his wife and his pet dog and cat.
Praise For…
---
Praise for What Was the Tulsa Race Massacre of 1921? by Caleb Gayle

"A comprehensive accountof this important historic atrocity, this accessible volume is not to be missed."—School Library Journal