¿Qué es la Serie Mundial? (¿Qué fue?) (Paperback)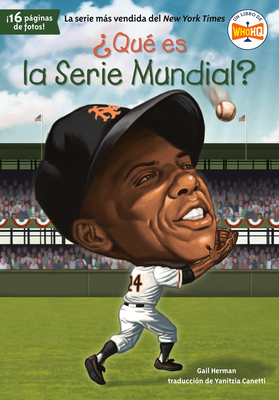 Description
---
Spanish speakers can now learn more about the most famous championship series in all of baseball: the World Series!

Los hispanohablantes pueden ahora conocer más sobre la serie más famosa del campeonato de béisbol: ¡la Serie Mundial!

"Strike three, you're out!" "He's safe!" "Home run!" Every October, millions of baseball fans around the country anxiously wait to see which team wins baseball's biggest championship. But the original games of the 1900s hardly looked like they do today. Take a look back over one hundred years and discover the history of baseball's greatest series. With triumphs, heartbreak, and superstitious curses, this action-packed book brings America's Pastime to life.

"Tercer strike, ponchado". "Quieto". "Jonrón". Cada octubre, millones de aficionados al béisbol de todo el país esperan ansiosamente ver qué equipo gana la mayor competencia del béisbol. Pero los partidos originales de la década de 1900 difícilmente se parecían a los de hoy. Echa un vistazo a más de cien años atrás y descubre la historia de las mejores series del béisbol. Con triunfos, desengaños y maldiciones supersticiosas, este libro lleno de acción, da vida al pasatiempo de Estados Unidos.
About the Author
---
Yanitzia Canetti es la presidenta de Cambridge BrickHouse, Inc. Yanitzia se desempeña como consultora literaria, escritora y traductora para las principales editoriales. Experta tanto en libros para el mercado general como para el sector educativo, es la autora de más de 500 libros. En el 2011, fue elegida por la revista People en español como una de las 25 Mujeres Hispanas Más Poderosas del Mundo.

Yanitzia Canetti is the head of Brickhouse Learning. Yanitzia works as a literary consultant, writer, and translator across all major publishing houses. An expert in both the trade and educational markets, she has published over 500 books in Spanish. In 2011, she was selected by People magazine as one of the 25 Most Powerful Hispanic Women of the World.