She Persisted: Pura Belpré (Paperback)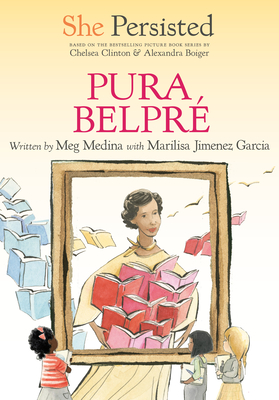 Description
---
Inspired by the #1 New York Times bestseller She Persisted by Chelsea Clinton and Alexandra Boiger, a chapter book series about women who spoke up and rose up against the odds--including Pura Belpré!

Pura Belpré grew up in Puerto Rico surrounded by stories. When she moved to New York and was offered the chance to work at the New York Public Library, she was thrilled to be able to help share her stories with children—especially multicultural and multilingual children like her. She persisted in bringing Spanish and bilingual storytelling and books to libraries across the city and across the country, and she wrote books and stories of her own to bring even more of her culture to people everywhere. Pura gave Spanish speakers in New York and around the country the opportunity to read and find community in ways they never had before, and she changed the way libraries reach readers even to this day.

In this chapter book biography by bestselling and award-winning author Meg Medina, readers learn about the amazing life of Pura Belpré--and how she persisted. 

Complete with an introduction from Chelsea Clinton, black-and-white illustrations throughout, and a list of ways that readers can follow in Pura Belpré's footsteps and make a difference! A perfect choice for kids who love learning and teachers who want to bring inspiring women into their curriculum.

And don't miss out on the rest of the books in the She Persisted series, featuring so many more women who persisted, including Sonia Sotomayor, Diana Taurasi, Malala Yousafzai, and more!
About the Author
---
Meg Medina (megmedina.com) is the eighth National Ambassador for Young People's Literature. She is a New York Times bestselling and award-winning author who writes for children and teens. She has won numerous awards for her work, including the Ezra Jack Keats Writer Award as well as the Pura Belpré Award and Honor. She is the 2019 Newbery Medal winner for her novel Merci Suárez Changes Gears. When she is not writing, she works on community projects that support Latinx youth. She lives with her family in Richmond, Virginia. You can follow Meg on Twitter @meg_medina and on Instagram @megmedinabooks.

Marilisa Jiménez García is an associate professor of children's literature at Simmons University. She is the author of Side by Side: US Empire, Puerto Rico, and the Roots of Youth Literature and Culture. She researches the role of youth literature in education and racial justice struggles in the US. Jiménez García's writing has appeared in The Atlantic, Refinery 21, Children's Literature, and Latino Studies. You can follow her on Twitter @MarilisaJimenez.

Chelsea Clinton is the author of the #1 New York Times bestseller She Persisted: 13 American Women Who Changed the World; She Persisted Around the World: 13 Women Who Changed History; She Persisted in Sports: American Olympians Who Changed the Game; She Persisted in Science: Brilliant Women Who Made a Difference; Don't Let Them Disappear: 12 Endangered Species Across the Globe; It's Your World: Get Informed, Get Inspired & Get Going!; Start Now!: You Can Make a Difference; with Hillary Clinton, Grandma's Gardens and Gutsy Women; and, with Devi Sridhar, Governing Global Health: Who Runs the World and Why? She is also the Vice Chair of the Clinton Foundation, where she works on many initiatives, including those that help empower the next generation of leaders. She lives in New York City with her husband, Marc, their children and their dog, Soren. You can follow Chelsea Clinton on Twitter @ChelseaClinton or on Facebook at facebook.com/chelseaclinton.

Gillian Flint (gillianflint.com) is an illustrator who has a passion for painting in watercolors. She has been drawing and creating characters for as long as she can remember. Her work has been published in the USA, the UK and Australia. In her spare time she enjoys reading and gardening at her home in the UK. You can follow her on Instagram @gillianflint_illustration.

Alexandra Boiger (alexandraboiger.com) has illustrated nearly twenty picture books, including the She Persisted series by by Chelsea Clinton; the popular Tallulah series by Marilyn Singer; and the Max and Marla books, which she also wrote. Originally from Munich, Germany, she now lives outside of San Francisco, California, with her husband, Andrea; daughter, Vanessa; and two cats, Luiso and Winter. You can follow Alexandra on Instagram @alexandra_boiger.