La Familia lo es Todo (Family is Everything Spanish Edition) (Disney Encanto) (LEYENDO A PASOS (Step into Reading)) (Paperback)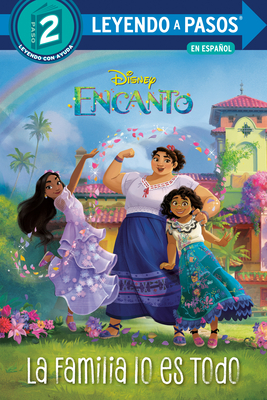 Description
---
Edición en español de la serie LEYENDO A PASOS para lectores en el PASO 2. Libro basado en la película Encanto de Disney.

Encanto cuenta la historia de los Madrigal, una familia extraordinaria que vive en una casa mágica escondida en las montañas de Colombia. La magia del Encanto ha bendecido a todos los integrantes de la familia con un fantástico don, desde la súper fuerza hasta el poder de sanar con la comida. A todos, excepto a Mirabel. Al descubrir que la magia que rodea al Encanto está en peligro, Mirabel, la única Madrigal sin un don, podría ser la última esperanza de su excepcional familia.

Niños y niñas entre los 4 y 6 años de edad disfrutarán de este divertido cuento basado en la película Encanto de Disney. Este libro forma parte de LEYENDO A PASOS, una serie de textos adecuados para cada nivel de lectura.

Los libros del PASO 2 usan vocabulario básico y oraciones cortas para narrar historias sencillas. Son adecuados para lectores que reconocen palabras familiares y que comprenden y vocalizan palabras nuevas con un poco de ayuda.

This Step 2 LEYENDO A PASOS leveled reader is based on Disney's Encanto!

Disney's Encanto tells the tale of an extraordinary family, the Madrigals, who live hidden in the mountains of Colombia, in a magical house, in a vibrant town, in a wondrous, charmed place called an Encanto. The magic of the Encanto has blessed every child in the family with a unique gift, ranging from superstrength to the power to heal—every child except one, Mirabel. But when she discovers that the magic surrounding the Encanto is in danger, Mirabel decides that she, the only ordinary Madrigal, might just be her exceptional family's last hope.

Children ages 4 to 6 will love this Step 2 LEYENDO A PASOS leveled reader based on the animated feature film. Step 2 readers use basic vocabulary and short sentences to tell simple stories and are for children who recognize familiar words and can sound out new words with help. LEYENDO A PASOS is a Spanish-language line of Step into Reading.