LEGO Amazing But True: Fun Facts About the LEGO World - and Our Own! (Hardcover)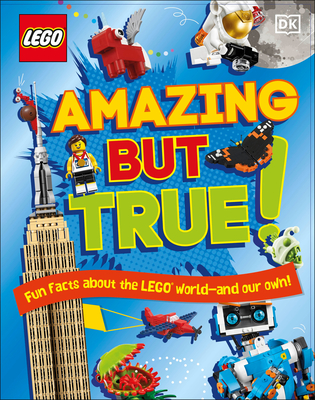 Description
---
An eye-popping fact book with a LEGO twist – discover amazing information about the world around us with the help of LEGO minifigures and bricks!

Did you know a Goliath spider weighs the same as 75 2x4 LEGO bricks? Or that LEGO bricks and minifigures in various forms have travelled to Saturn, Mars, and the International Space Station? 
 
And did you know the Taj Mahal gets a mud pack treatment to remove pollution stains? Or that hummingbirds are the only birds that fly backwards? 
 
From unbelievable space and nature facts, to mind-boggling inventions and technology trivia, children will be amazed and entertained with incredible information about the LEGO world and our own. 
 
©2022 The LEGO Group.
About the Author
---
Elizabeth Dowsett grew up playing with lots of LEGO bricks. She edited her first LEGO book in 2009, the LEGO Star Wars: Visual Dictionary, which went on to sell over a million copies. The first LEGO book she wrote was LEGO Harry Potter Building the Magical World, which was a No. 1 New York Times Bestseller.

Julia March is a writer and editor with more than 16 years' experience in children's licensing. Her titles include LEGO Batman Movie: the Essential Guide; LEGO Ninjago Movie: the Essential Guide; and a variety of DK Readers and sticker books. Julia lives and works in London.

Catherine Saunders is a writer and editor, specializing in non-fiction. She's written about everything from dinosaurs to Darth Vader, and is passionate about creating engaging and accessible content for all ages. Her titles include LEGO Jurassic World: The Dino Files; Riding School; Play Football; and a wide variety of DK Readers. Catherine has two children and loves making up bedtime stories for them.