The LEGO Ideas Book New Edition: You Can Build Anything! (Hardcover)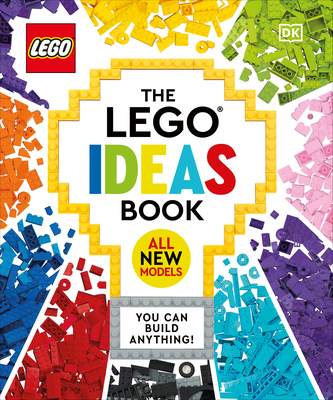 Description
---
A brand new edition of the best-selling LEGO® book of all time – with hundreds of all-new models!

Unlock your imagination with this colorful treasury of more than 200 new building ideas created by LEGO® fan builders. Learn tips and tricks to become a better builder. Find out how professional LEGO designers get their ideas and meet the fan builders. Get inspired to make your own LEGO creations with ideas to build your dream home, create an alien sports center, design a time machine, grow your own brick-built rooftop garden, and much more. There is no limit when it comes to LEGO ideas. What will you build?

©2022 The LEGO Group.
About the Author
---
Simon Hugo is the author of several best-selling LEGOⓇ books including LEGOⓇ Absolutely Everything You Need To Know, the LEGOⓇ DC Super Heroes Character Encyclopedia and LEGOⓇ Star Wars: Choose Your Path. He has written on a variety of other pop-culture subjects including James Bond, Star Trek and Doctor Who.

Tori Kosara is a children's book writer and editor from New York. She loved building with LEGOⓇ bricks as a child, and now she has fun making models with her two young children. Tori has a master's degree in Children's Literature from Roehampton University, and has written more than 40 books for children, including The LEGOⓇ Book of Bedtime Builds. She lives in East London with her husband, two sons, and a story-loving Labrador.

Julia March is a writer and editor with more than 16 years' experience in children's licensing. Her titles include LEGOⓇ Batman Movie: the Essential Guide; LEGOⓇ Ninjago Movie: the Essential Guide; and a variety of DK Readers and sticker books. Julia lives and works in London.

Catherine Saunders is a writer and editor, specializing in non-fiction. She has written about everything from dinosaurs to Darth Vader, and is passionate about creating engaging and accessible content for all ages. Her titles include LEGOⓇ Jurassic World: The Dino Files; Riding School, Play Football; and a wide variety of DK Readers. Catherine has two children and loves making up bedtime stories with them.