Build Your Own LEGO Escape Room: With 49 LEGO Bricks and a Sticker Sheet to Get Started (Mixed media product)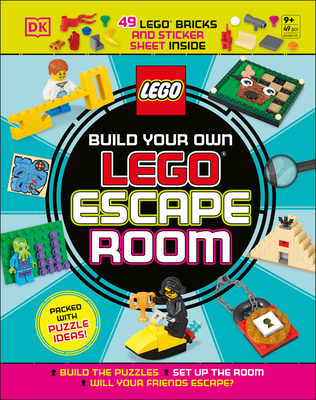 Description
---
Plan and build thrilling LEGO® escape rooms!

Learn how to plan awesome LEGO escape rooms – with more than 30 LEGO puzzle ideas and 49 useful LEGO pieces and a sticker sheet. Create your own escape rooms and challenge your friends.

Follow one of three themed escape rooms: Egyptian Quest, Space Mission, and Safari Adventure, or pick and choose from more than 30 LEGO puzzles with building tips and easy-to-follow visual breakdowns to create your own escape rooms from scratch.


Build Your Own LEGO Escape Room includes:

- 49 useful LEGO pieces, over 30 build ideas for LEGO puzzles and a sticker sheet.
- Three themed escape rooms to build – with 6-8 challenges each.
- Fun story pages to show how players will experience the game, easy-to-follow visual breakdowns of the LEGO models, and a step-by-step guide to setting up the game.
- Advice on how to plan the escape rooms, from making them immersive and theme inspiration to linking puzzles and giving clues.


Build Your Own LEGO Escape Room is ideal for 9–12 year-olds who love LEGO bricks, puzzles, and challenges!
About the Author
---
Simon Hugo (author) is the author of several bestselling LEGO books, including LEGO Absolutely Everything You Need to Know, the LEGO DC Super Heroes Character Encyclopedia, and LEGO Star Wars Yoda's Galaxy Atlas. He has written on a variety of other pop-culture subjects including James Bond, Star Trek, and Doctor Who.

Barney Main (expert LEGO builder) has been building LEGO models for DK books for over 10 years. He lives in Wiltshire with his wife, Emily, and Blueberry the hamster, and designs vacuum cleaners for a living.