Kitchen Sugar Lab: Science Has Never Been So Sweet! 10 Sweet Experiments and Activities – Includes: a 32-page book, 1 gummy mold, 1 sugar bubble wand, 5 candy sticks, and 2 rubber latex balloons! (Kit)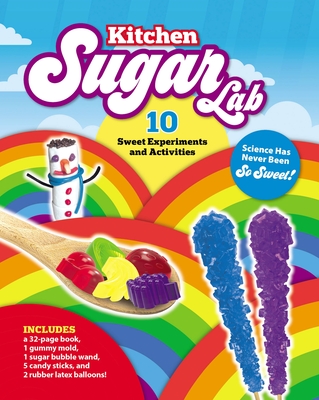 Description
---
Science has never been sweeter! Learn the science of sugar with this activity-packed kit.
Sugar is the building block for the 10 supersweet activities and experiments in Kitchen Sugar Lab. Follow easy, step-by-step instructions to make sweet treats and learn the science behind sugar bubbles, floating eggs, and burping balloons with the included:
32-page book
2 rubber latex balloons
1 sugar bubble wand
5 candy sticks
1 gummy mold

Use the candy sticks to watch bright rock candy grow right in front of your eyes, or the bubble wand to blow sugar bubbles inside of sugar bubbles (inside of sugar bubbles!). Worm- and fruit-shaped gummy molds help you create personalized treats with an easy gelatin mixture. Experiments include:
Sugar Sparks: make candies that glow in the dark
Burping Balloons: inflate a balloon without using your hands
Sugar Snowman: create sugar glue to put together candy snowmen of your own design
Rock Candy: design rock candy as unique as you
Wiggle Worms: personalize gummy worms, including sour worms and tie-dye worms
Trickster Gummies: fool your friends with these sweet treats that look one way and taste another

Reusable components and endless variations make this a kit you can use over and over again!
About the Author
---
Jen Malone spent time as a tour guide at Walt Disney World and later worked in movie PR with Walt Disney Studios as a client. She's currently in the process of turning her garden shed into a "makery" for all her crafty mad scientist pursuits. She lives in Massachusetts with her family. You can learn more about Jen, her crafts, and her books, at her website, jenmalonewrites.com, and on Twitter and Instagram @jenmalonewrites.