The Art of Pantry Cooking: Meals for Family and Friends (Hardcover)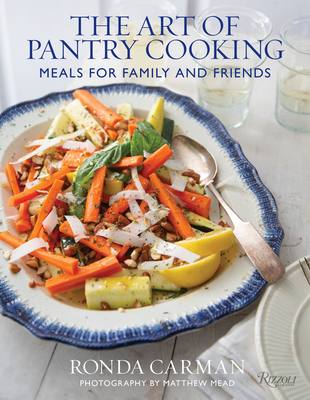 $17.98

Coming Soon - Available for Pre-Order Now
Description
---
Many of us are reclaiming the lost art of cooking at home. Ronda Carman, a seasoned cook who is on the Salonniere 100 list of America's best party hosts, demonstrates how a well-stocked pantry allows you to easily create beautifully seasoned dishes.

Join Ronda Carman as she cooks from her pantry and readily available items in the refrigerator. A bountiful cupboard provides everything you need to prepare the batter for coconut pancakes, a bowl of chickpea soup with pesto, or a batch of pignoli cookies.

Organized alphabetically by ingredient, from almonds to za'atar, these pantry essentials are the foundation for creating meals that reflect today's palette. Each section covers a single staple that can be used for numerous recipes. From dried fruits and grains for an instant breakfast to beans and pastas for a main course and polenta for a tasty lemon cake, every meal throughout the day is covered.

With over 100 easy-to-follow recipes and stunning photography showing creative ways to present dishes, this prac-tical cookbook features original takes on Caramelized Onion Anchovy Butter, Lemon Orzo with Tuna and Artichoke Hearts, and Pasta with Sardines, Breadcrumbs, and Capers.

Each seasonal dish is infused with nuanced flavors. The Art of Pantry Cooking is a must-have for those passionate about cooking.
About the Author
---
Ronda Carman is a lifestyle journalist, a former recipe contributor to Southern Living, and author of best-selling books Entertaining at Home and Designers at Home. She has been a guest on Martha Stewart Radio, Good Morning Scotland, and Pittsburgh Today. Matthew Mead is a well-known lifestyle photographer, whose work appears regularly in books and in the press.