Echo Echo: Reverso Poems About Greek Myths (Hardcover)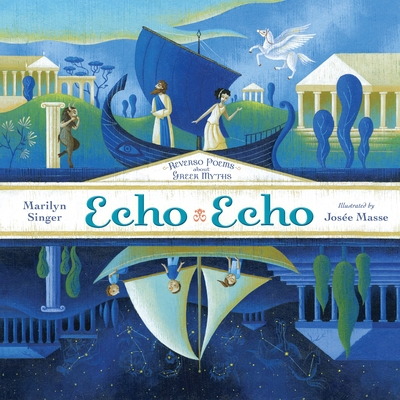 Description
---
A new book of unique reversible poems based on Greek myths from the creator of Mirror Mirror  
 
What happens when you hold up a mirror to poems about Greek myths? You get a brand-new perspective on the classics! And that is just what happens in Echo Echo, the newest collection of reverso poems from Marilyn Singer. Read one way, each poem tells the story of a familiar myth; but when read in reverse, the poems reveal a new point of view! Readers will delight in uncovering the dual points of view in well-known legends, including the stories of Pandora's box, King Midas and his golden touch, Perseus and Medusa, Pygmalion, Icarus and Daedalus, Demeter and Persephone, and Echo and Narcissus.
 
These cunning verses combine with beautiful illustrations to create a collection of fourteen reverso poems to treasure.
About the Author
---
Marilyn Singer is an award-winning author of more than 90 children's books in a wide variety of genres. 

Josée Masse is a recognized artist in her native Canada, having illustrated numerous French and American picture books.
Praise For…
---
A New York Public Library Best of the Year pick
An SLJ Best Book of the Year
A Nerdy Book Club Award winner


* "Another inventive exploration of stories readers thought they knew." — Publishers Weekly

* "A witty, seductive pairing of poetic imagination and artistic vision." — School Library Journal

"A visual and interpretive feast bringing timeless tales to a young audience." — Kirkus Reviews

"A wonderful addition to poetry collections andaccompaniment for the myths."—  Booklist

"Marilyn Singer's ingenious 'reverso' poems are child-friendly feats of verbal pyrotechnics" — The New York Times

"The perfect supplement or introduction to Pandora, King Midas, Icarus, and the rest of the bunch of fantastically flawed gods, monsters, and mortals…easy and rewarding to read." — The Boston Globe

"Delightful...vivid, glowing." —The Wall Street Journal

"Mythology and Western civ curricula will grab greedily for this one." —BCCB