I am Amelia Earhart (Ordinary People Change the World) (Hardcover)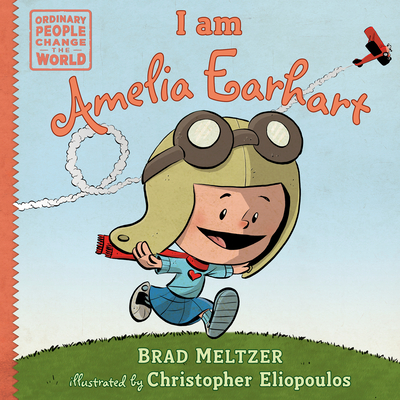 Description
---
We can all be heroes. That's the inspiring message of this lively, collectible picture book biography series from New York Times bestselling author Brad Meltzer.
 
"Kids always search for heroes, so we might as well have a say in it," Brad Meltzer realized, and so he envisioned this friendly, fun approach to biography – for his own kids, and for yours. Each book tells the story of one of America's icons in an entertaining, conversational way that works well for the youngest nonfiction readers, those who aren't quite ready for the Who Was series. Each book focuses on a particular character trait that made that role model heroic. For example, Amelia Earhart refused to accept no for an answer; she dared to do what no one had ever done before, and became the first woman to fly a plane all the way across the Atlantic Ocean. This book follows her from childhood to her first flying lessons and onward to her multi-record-breaking career as a pilot.
 
This engaging series is the perfect way to bring American history to life for young children, and to inspire them to strive and dream.
About the Author
---
Brad Meltzer is the New York Times bestselling author of Heroes for My Son, Heroes for My Daughter, The Lincoln Conspiracy, and a number of suspense novels like The Lightning Rod. He also helped find the missing 9/11 flag with his History Channel television show Brad Meltzer's Lost History. He lives in Florida with his wife and their three children. (And did you know that a picture of Brad is hidden in every book in this series?)

Christopher Eliopoulos began his illustration career at Marvel Comics, and has worked on thousands of comics, including his own Cow Boy and Franklin Richards: Son of a Genius. He is the author and illustrator of the picture books The Yawns Are Coming! and The Giggles Are Coming! and the graphic novels Cosmic Commandos and Monster Mayhem. He lives in New Jersey with his wife and their college-graduate twin sons (who also make an appearance in each Ordinary People Change the World book).