The Story of Esther: A Purim Tale (Hardcover)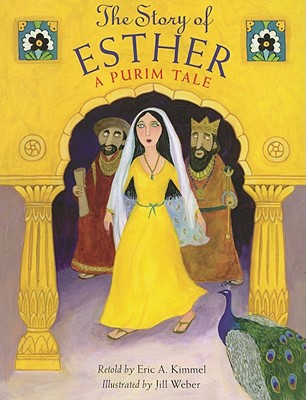 Description
---
Perfect for young readers, this retelling of the Purim story brings together a mighty king, a jealous scoundrel, a wise uncle-- and a clever heroine.

Long ago, King Ahasuerus of Persia was seeking a new wife. Though many beautiful maidens came to meet the King, it was a young Hebrew woman who caught his eye.  She was called Esther, for she was as beautiful as the Morning Star, and the king decided to marry her immediately.

But when the King's hot-tempered chief minister Haman threatened Esther's uncle, it was up to the young queen to save her family-- and her people.  With quick wits and courage, Esther persuaded the King to protect his Hebrew subjects-- an event still celebrated today as the holiday called Purim.

Recounted by master storyteller Eric A. Kimmel, this dramatic story is a perfect introduction for young readers to the history of this holiday.  Bright paintings influenced by Persian art and architecture pair with the lyrical text to create an unforgettable picture book celebration.
About the Author
---
Eric A. Kimmel is known for his folktales and legends from all around the world. He lives in Oregon.

Jill Weber is a children's book illustrator and a book designer. Her paintings for Eric A. Kimmel's retelling of Even Higher were praised by Kirkus Reviews for their "guileless charm," and the book received an Oppenheim Toy Portfolio Gold Award. She lives in New Hampshire.
Praise For…
---
"As always, Kimmel is an effortless storyteller, his learnedness leavened with an expert sense of pacing for young audiences—even the book's longer passages feel like they're exactly the right length. In vibrant mixed-media paintings, Weber proves once again that she's an excellent match for this unflashy master. Her pictures combine a compositional sophistication with a presentational, almost naïf sense of drama that evokes murals and pageants."—Publishers Weekly

"Beautiful patterns in the architecture and decor of the palace add royal flavor."—School Library Journal