A Quieter Story (Paperback)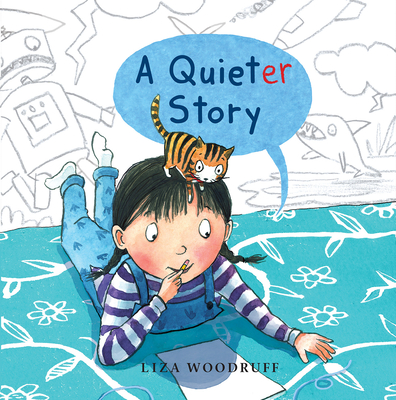 $7.99

Usually Ships in 1-5 Days
Description
---
A kitten insists that his little-girl owner write an adventure story suitable for a TIGER and learns that you should be careful about what you wish for when the story becomes too scary.

When a little girl starts to write a story about her kitten playing with yarn, he doesn't like it one bit. He wants a story for his alter-ego TIGER--one that has pep and pizzazz--so the girl creates an adventure that the kitten jumps into. Darkness surrounds him (No light, no problem! says the kitten), venomous vipers drop from the trees (Snakes? I've got this), hungry hyenas circle the tiger--and suddenly the kitten begins to wonder if there can be such a thing as too much adventure. As the story gets scarier and scarier, he realizes that what one wants and what one needs are sometimes two different things. This time, he needs a quieter story.
A colorful and inventive picture book about a creative girl and her kitten.
About the Author
---
Liza Woodruff has illustrated numerous children's books, including Once Upon a Winter Day, which she also authored. She is also a bookseller (Flying Pig Bookstore) and lives with her family in Vermont.
Praise For…
---
"The appealing artwork was created using a variety of media, resulting in a nicely varied, upbeat look. . . . Lively and amusing, this story about making stories will likely find eager listeners—and may just inspire some writing projects, too."—Kirkus Reviews

"Woodruff's mixed-media illustrations, done in watercolor, colored pencil, pen, and ink, work well both for the quiet playroom and the wild jungle setting. Readers will love following the collaboration between the girl and her kitten in this thought- and art-provoking book."—Booklist

"The imaginative child's art benefits from Woodruff's own deft use of cheery colors in her mixed-media illustrations, as the girl adds cartoony-looking vipers, hyenas, and 'ROCKETS! ROBOTS! LIGHTNING! SHARKS!' to the scene, while the now-wide-eyed cat becomes increasingly (and humorously) more nervous-looking." —The Horn Book 
 
"The mixed media illustrations are vibrantly rich and delightfully entertaining. The spunk and charisma of the cheeky little kitten makes him an amusing and endearing character. A charming tale of 'be careful what you wish for' for young children." —School Library Journal