Astronaut Annie (Paperback)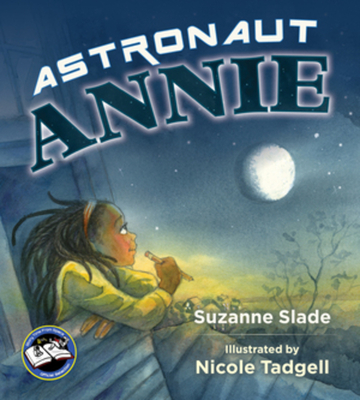 $9.95
Usually Ships in 1-5 Days
Description
---
Brightly List: Best Children's Books of March 2018

Annie's joyful exuberance and her family's whole-hearted support leave no doubt that her dream is within her grasp. This delightful story—with backmatter about women astronauts—encourages young readers to pursue their dreams and reach for the stars.
Career Day is approaching, and Annie can't wait to show her family what she's planning to be when she grows up. But, she must keep it a secret until Friday! So curious family members each ask Annie for a clue. Convinced that she'll be a news reporter like he once was, Grandpop gives her his old camera and notebook to use for her presentation. Grandma is sure Annie wants to be a champion baker like her, so she offers a mixing bowl and oven mitts to Annie. Hopeful she'll become the mountain climber he aspired to be, Dad gives Annie an old backpack. Mom presents Annie with a pair of high-top sneakers to pursue Mom's favorite sport in high school -- basketball.  
Grateful for each gift, Annie cleverly finds a way to use them all to create her Career Day costume. When the big day arrives, Annie finally reveals her out-of-this-world dream to everyone.
About the Author
---
Suzanne Slade is the author of 100 books for children, including many titles on science topics. Suzanne holds a Mechanical Engineering degree, and has worked on Delta IV rockets and car braking systems before beginning her writing career. She lives in a suburb of Chicago with her husband and two children.

NICOLE TADGELL'S illustrations have been featured in The Encyclopedia of Writing and Illustrating Children's Books and in numerous exhibitions. She has taught workshops and classes at the Worcester Art Museum, the Eric Carle Museum of Picture Book Art, and at Society of Children's Book Writers and Illustrators (SCBWI) conferences. Nicole also lectures at New England schools and colleges and demonstrates the picture book process in classrooms, libraries, and bookstores. Her award-winning children's books include Real Sisters Pretend, First Peas to the Table, In the Garden with Dr. Carver, Lucky Beans, and Fatuma's New Cloth.
Praise For…
---
the perfect book for any aspiring astro-lover of
any age or gender
— Best Kids Books of 2018

K-GR 2—Annie is preparing for Career Day at school, and is trying to follow her teacher's directive to keep her career choice a secret. Every evening she works on her costume while her family asks for hints. Grandpop gives her a camera in hopes she will aspire to be a journalist like him. Grandma tells her about her days winning awards for her desserts and lets Annie borrow her mixing bowl and oven mitts. Dad is convinced that she'll wants to be a mountain climber like him; and when Mom asks for a hint, she gives Annie some high-top sneakers hoping Annie will be a basketball player like she is. Annie does not commit to any of her family members' career choices, but in the end shows that she can blend something from everyone and make it her own. Readers will have no doubt that Annie is well equipped to follow her dream to travel into space. The illustration of her room shows planets hanging from the ceiling, stars and moons on her bedspread and tissue box, space posters on the walls, and a telescope for stargazing. Tadgell's watercolor illustrations are kid-friendly and complementary to Slade's concise storytelling. Back matter gives a short biography of four female astronauts, information about the phases of the moon, and a list of sources to learn more. VERDICT Strong, succinct text with complementary illustrations make this a great purchase for school and public library collections

— Jennifer Steib Simmons, Anderson County Library, SC

What does Annie want to be? As career day approaches, Annie wants to keep her job choice secret until her family sees her presentation at school. Readers will figure it out, however, through the title and clues Tadgell incorporates into the illustrations….A solid, small step for diversifying STEM stories.