More Deadly Than War: The Hidden History of the Spanish Flu and the First World War (Hardcover)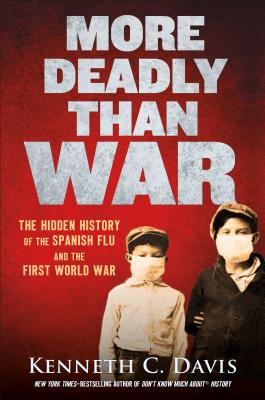 $19.99
Usually Ships in 1-5 Days
Description
---
From bestselling author Kenneth C. Davis comes a fascinating account of the Spanish influenza pandemic 100 years after it first swept the world in 1918.

"Davis deftly juggles compelling storytelling, gruesome details, and historical context. More Deadly Than War reads like a terrifying dystopian novel—that happens to be true." —Steve Sheinkin, author of Bomb and Undefeated
A Washington Post Best Children's Book of the Month
With 2018 marking the 100th anniversary of the worst disease outbreak in modern history, the story of the Spanish flu is more relevant today than ever. This dramatic narrative, told through the stories and voices of the people caught in the deadly maelstrom, explores how this vast, global epidemic was intertwined with the horrors of World War I—and how it could happen again. Complete with photographs, period documents, modern research, and firsthand reports by medical professionals and survivors, this book provides captivating insight into a catastrophe that transformed America in the early twentieth century.
Praise for More Deadly Than War

A Junior Library Guild Selection!
"More Deadly Than War is a riveting story of the great influenza pandemic of 1918, packed with unforgettable examples of the power of a virus gone rogue. Kenneth C. Davis's book serves as an important history—and an important reminder that we could very well face such a threat again." —Deborah Blum, New York Times bestselling author of The Poisoner's Handbook: Murder and the Birth of Forensic Medicine in Jazz Age New York.

"With eye-popping details, Kenneth C. Davis tracks the deadly flu that shifted the powers in World War I and changed the course of world history. In an age of Ebola and Zika, this vivid account is a cautionary tale that will have you rushing to wash your hands for protection." —Karen Blumenthal, award-winning author of Steve Jobs: The Man Who Thought Different

* "Davis once again makes history accessible for students from the middle grades through high school." —VOYA, STARRED review
About the Author
---
Kenneth C. Davis is the New York Times bestselling author of America's Hidden History and Don't Know Much About® History, which gave rise to the Don't Know Much About® series of books for adults and children. A frequent guest on national television and radio and a Ted-Ed Educator, Davis enjoys Skype visits with middle- and high-school classrooms to discuss history. He lives in New York City.
Praise For…
---
A Washington Post Best Children's Book of the Month
A Junior Library Guild Selection!
"Davis deftly juggles compelling storytelling, gruesome details, and historical context. More Deadly Than War reads like a terrifying dystopian novel—that happens to be true." —Steve Sheinkin, author of Bomb and Undefeated
"More Deadly Than War is a riveting story of the great influenza pandemic of 1918, packed with unforgettable examples of the power of a virus gone rogue. Kenneth C. Davis's book serves as an important history—and an important reminder that we could very well face such a threat again." —Deborah Blum, New York Times bestselling author of The Poisoner's Handbook: Murder and the Birth of Forensic Medicine in Jazz Age New York.

"With eye-popping details, Kenneth C. Davis tracks the deadly flu that shifted the powers in World War I and changed the course of world history. In an age of Ebola and Zika, this vivid account is a cautionary tale that will have you rushing to wash your hands for protection." —Karen Blumenthal, award-winning author of Steve Jobs: The Man Who Thought Different

* "Davis once again makes history accessible for students from the middle grades through high school." —VOYA, STARRED review
"Engaging and illuminating." —Booklist
"The smooth narrative excels at connecting the epidemic and the war . . . informative." —Kirkus Reviews

"Davis' account untangles the scientific advances, international conflicts and cultural currents that shaped this catastrophic event." —The Washington Post

"Davis puts a human face on the pandemic, interlacing tales of political, military, and civilian luminaries struck by the flu, and also connects with readers through contemporary analogies, likening German propaganda to "fake news," and a sneeze's emission of fast-flying, virus-carrying droplets to "a video game with space invaders." Davis also assiduously documents modern medical research and puts the pandemic in the context of medical history." —Publishers Weekly

"A fascinating account of the devastating, history-altering Spanish flu pandemic . . . Davis is a fine storyteller, and he weaves dramatic, colorful accounts of the flu's impact." —The Buffalo News
Praise for In the Shadow of Liberty:
* "This well-researched book offers a chronological history of slavery in America and features five enslaved people and the four U.S. presidents who owned them. . . . A valuable, broad perspective on slavery." —Booklist, starred review
* "Compulsively readable. . . . A must-have selection." —School Library Journal, starred review
* "[A] powerful examination of five enslaved individuals. . . . a thoroughly researched and reasoned account." —Publishers Weekly, starred review
"The premise of this work is unique, and Davis has a very readable storytelling style. . . . An important and timely corrective." —Kirkus Reviews
"Davis's solid research. . . accessible prose, and determination to make these stories known give young readers an important alternative to textbook representations of colonial life." —The Horn Book
"By exploring the humanity of people held in bondage by early American presidents, Kenneth C. Davis once again turns American mythology into history. Read the book and be grateful." —Marcus Rediker, author of The Slave Ship: A Human History
"The young woman was enslaved, but also privileged. She was part of the household of the nation's first president. This powerful book tells her story, and others, which are surprising and have been unknown to most of us. They will give you insights into our American heritage that you may not have considered before. I hope In the Shadow of Liberty will be widely read. It is important and timely." —Joy Hakim, author of A History of US (Oxford University Press)
"Davis' newest book is fascinating." —Kids' Home Library