History Comics: The Great Chicago Fire: Rising From the Ashes (Paperback)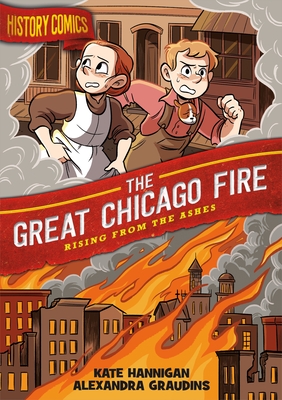 Description
---
In History Comics: The Great Chicago Fire, writer Kate Hannigan and illustrator Alex Graudins tell the true story of how a city rose up from one of the worst catastrophes in American history, and how this disaster forever changed how homes, buildings, and communities are constructed.

A deadly blaze engulfs Chicago for two terrifying days! A brother, a sister, and a helpless puupy must race through the city to stay one step ahead of the devilish inferno. But can they reunite with their lost family before its too late?

With History Comics you can travel back in time to the launchpad at Cape Canaveral, the deserts of the American southwest, the riot at the Stonewall Inn, and beyond! In this new nonfiction graphic novel series from First Second, the past comes alive!
About the Author
---
Alex Graudins is a cartoonist and illustrator currently living in Rhode Island. She is a graduate of the School of Visual Arts' Cartooning class of 2016.
Science Comics: The Brain
is her first book!
Kate Hannigan used to work for daily newspapers but now she writes fiction and nonfiction for young readers, digging up remarkable people from history and sharing their stories. Her work includes a historical fantasy series for middle-grade, Cape; the historical mystery The Detective's Assistant; and a picture book biography of Belva Lockwood, A Lady has the Floor.

Kate lives in Chicago, not far from the Columbian Exposition site, and shops near Mrs. OLearys old home.
Praise For…
---
"Vibrant artwork and an engaging story make this a great vehicle for a poignant glimpse at American history."Booklist

"Hannigan sticks closely to historical records in tracing the causes and course of the fire as well as the architectural and infrastructure improvements wrought in its wake and the fairs artistic and technological highlights. ...Graudins overlays the infodumps with small, intimate panels depicting period-clad people with appealingly open expressions (and, often, puppies in tow) in accurately drawn settings. A fictive plotline adds a strong you are there feel to this informative account."Kirkus