Sightwitch: A Tale of the Witchlands (Paperback)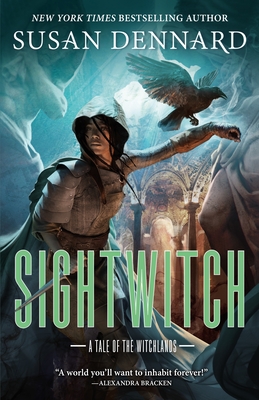 Description
---
From New York Times bestselling author Susan Dennard, Sightwitch is a standalone illustrated novella set in the Witchlands and told through Ryber's journal entries and sketches.

Secrets long-buried. Dark magic waking. And one young acolyte with the fate of the Witchlands in her hands...

Sisters with the gift of Sight—Sightwitches, who can see into the future—are of a rare and ancient order. Raised in a secluded convent, they await the invitation of their goddess to enter the depths of the mountain and receive the sacred gift of foretelling.

But for young Ryber Fortiza, that call never comes. As the only sister without Sight, Ryber has devoted herself to the goddess. Surely, if she just works hard enough, she will finally be gifted like everyone else.

Until one day, all Sisters who possess the Sight are summoned into the mountain—and never return. Now Ryber, still Sight-less, is the only one left. Can she, who has spent her life feeling like the weakest, be the one to save her Sisters and the ancient power they protect?

On her journey underground, she encounters a young captain named Kullen Ikray, who has no memory of who he is or how he got there. Together they trek ever deeper, the mountain tunnels filled with mysteries and horrors. And what they find at the end will alter the fate of the Witchlands forever.
About the Author
---
Susan Dennard has come a long way from small-town Georgia. Working in marine biology, she got to travel the world -- six out of seven continents (she'll get to Asia one of these days!) -- before she settled down as a full-time novelist and writing instructor. She is the author of the Something Strange and Deadly series, as well as the Witchlands series, which includes the New York Times bestselling Truthwitch and Windwitch. When not writing, she can be found hiking with her dogs, slaying darkspawn on her Xbox, or earning bruises at the dojo.
Praise For…
---
Praise for the Witchlands Series:

"Susan Dennard has worldbuilding after my own heart. It's so good it's intimidating."—Victoria Aveyard, #1 New York Times bestselling author of Red Queen

"A world you'll want to inhabit forever!"—Alexandra Bracken on Windwitch

"A richly imagined magical world, ruthless politics, steamy romance, and characters who grab you and won't let go."—Cinda Williams Chima, New York Times bestselling author, on Truthwitch

"Featuring vibrant characters and an innovative system of magic...a fast-paced adventure and a wonderful tribute to the power of the binding ties of friendship."—Jacqueline Carey, New York Times bestselling author, on Truthwitch

"A cake stuffed full of your favorite fantasy treats: highway robbery, swordplay, deep friendships, treachery, magic, piracy on the high seas, and romance. This book will delight you."—Robin Hobb, New York Times bestselling author, on Truthwitch

"[Dennard] sets scenes so skillfully that the descriptions of the geography become immersive, and the characters continually develop along familiar lines. The plentiful action in this exciting fantasy almost makes it feel like one is in a multiplayer online game."—Booklist on Windwitch

Dennard's rich descriptions, insightful characterizations, and breathtaking action sequences will keep readers on their toes."—Publishers Weekly, starred review on Truthwitch

"Intense friendships and burgeoning romances…Epic adventure and steamy smooches make for a crowd-pleasing formula."—Kirkus Reviews on Truthwitch

"Dennard has upped her game."—Deseret News on Windwitch

"5 stars: Emotionally charged... with complicated politics and personal relationships that are full of surprises."—RT Book Reviews, on Windwitch

"Susan Dennard is taking the reins of the genre that is fantasy, making it apparent that she is here to stay and I cannot wait for more of her amazing writing in the future of this series."—TeenReads on Windwitch