Kitty Sweet Tooth (Hardcover)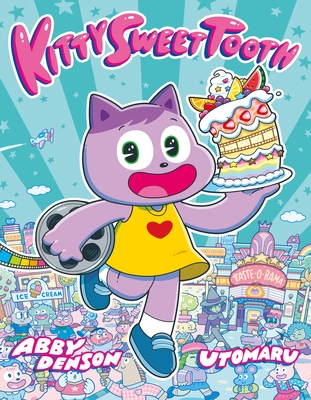 Description
---
In this adorable and silly graphic novel written for young readers, Kitty Sweet Tooth runs a movie theater that serves up magical (and unpredictable) desserts. Featuring delicious text from author Abby Denson, and bright, colorful illustrations by Utomaru.

There's just one thing Kitty Sweet Tooth loves more than going to movies, and that's eating delicious desserts. Now that Pop-Pop's movie theater has fallen on hard times, Kitty decides that only dessert can keep it from closing its doors. With a coat of paint, a tasty new menu, and a lot of hard work, Kitty and her friends transform this ramshackle theater into the Taste-O-Rama, a combination movie house restaurant.

At the Taste-O-Rama, special film screenings are paired with custom-made dishes. But when you have a mad scientist and a witch working in the kitchen, recipes can go awry! On opening night, the theater is flooded with magical jelly that grows out of control. How can Kitty Sweet Tooth and her friends save the day?
About the Author
---
Abby Denson is the author of Cool Tokyo Guide, Cool Japan Guide, Dolltopia (which garnered an International Manga Award and a Moonbeam Children's Book Award), and Tough Love: High School Confidential. She has written for many comics including Amazing Spider-Man Family, Powerpuff Girls Comics, Simpsons Comics, Sabrina The Teenage Witch, and Disney Adventures. She is a graduate of Parsons School of Design and Eugene Lang College and has taught and lectured at various venues including The New School, and Sophia University. She loves cats, movies, and desserts!

Utomaru is a freelance illustrator, art director and graphic designer based in Tokyo, Japan. Her career as an illustrator started in high school, when she was asked to make a flyer and CD cover for a local musician. After, she studied graphic design at Tama Art University and developed her art style: bold lineart, vivid colors, and dynamic composition. Her main influences and inspirations arrive from both American and Japanese comics, animation and movie posters from 1960s-1980s, Betty Boop cartoon and the poster designs by Tadanori Yokoh. Utomaru is the illustrator of Abby Denson's graphic novel for kids, Kitty Sweet Tooth.
Praise For…
---
"Utomaru's bold line art and vibrant illustrations fill each page with lively, magical scenes; eagle-eyed readers will spot hidden details. ...A sweet treat of a story that's sure to satisfy chapter book readers."—School Library Journal

"A sugar-sweet burst of sunshine for new readers."—Kirkus