Bad Kitty Joins the Team (Hardcover)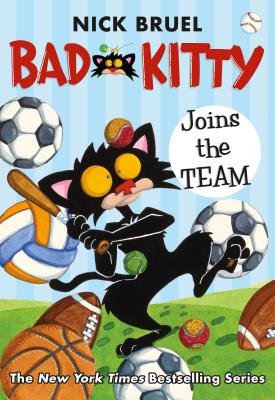 Description
---
See Kitty as you've never seen her before: EXERCISING (reluctantly) in Bad Kitty Joins the Team, the latest installment of Nick Bruel's phenomenally successful New York Times bestselling series.

Kitty is terribly out of shape—she can barely torment Puppy without needing a break to huff and puff! When Kitty's owner catches her wheezing, Kitty is told it's time to EXERCISE.

It takes some serious convincing, a high-stakes competition, and a little bit of trickery but eventually Kitty gets into the competitive spirit . . . albeit reluctantly. What did you expect?

Will our favorite feline friend learn what it means to be a good sport? Find out in this hilarious addition to the Bad Kitty series.
About the Author
---
Nick Bruel is the author and illustrator of New York Times bestseller Boing, Bad Kitty, Bad Kitty Gets a Bath and Bad Kitty Meets the Baby, among others. Nick is a freelance illustrator and cartoonist, and during his down time, he collects PEZ dispensers and grows tomatoes in the backyard. He lives in Tarrytown, NY with his wife Carina and their lovely cat Esmerelda.