Sticker Mash-Ups! (Paperback)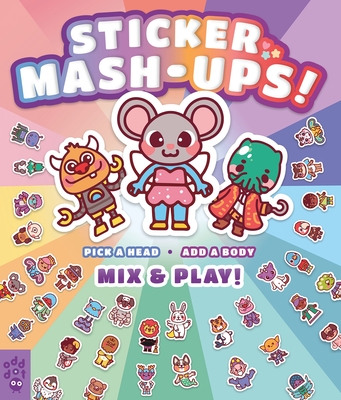 Description
---
What do a purrmaid, a llamacorn, and an octopug all have in common? They're STICKER MASH-UPS!

With dozens of head and torso illustrations to choose from, you will have endless hours of fun creating new characters and mashing up beloved favorites. Creatures on land, in the water, and in space make for zany and wild new faces.

Decorate your school notebooks, journals, backpacks, pencil cases and more with this delightfully-illustrated, mashable and stickable sticker book!
About the Author
---
Odd Dot
is an imprint of Macmillan Children's Publishing Group dedicated to creating joyful books for curious minds. Our mission is to develop interactive and substantive gift books that explore categories and formats never seen before. We are a proudly odd mix of makers, creators, and engineers, guided by the priorities of innovation, education, and play.
Lorenzo Matthew
is an illustrator based in Jakarta, Indonesia, who likes to draw illustrations based on pop culture with a kawaii (cute) art style.
Clémentine Derodit is a French illustrator based in Lyon (France). In 2002, she obtained her graphic design diploma and started her career working as a graphic designer. Her passion for character design led her to work on coloring and stickers books for kids.

In 2006, she became a full time illustrator and has since worked in her home studio creating animals, characters, patterns, and cute illustrations. She also does illustration work for motion design videos with Bupla.

Her illustrations have been used across a wide range of products, including picture books, activity books, puzzles, packaging, stamps and enamel pins. Selected Clients include Hachette, Fleurus, Gründ, Tourbillon, Janod or Chupa Chups to name a few.