It Rained Warm Bread: Moishe Moskowitz's Story of Surviving the Holocaust (Paperback)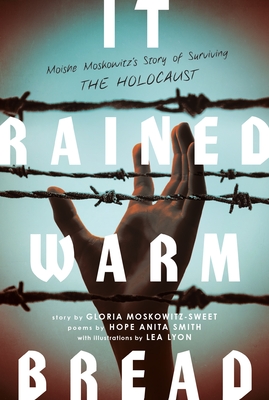 Description
---
A powerful middle grade novel-in-verse about one boy's experience surviving the Holocaust.

Moishe Moskowitz was thirteen when the Nazis invaded Poland and his family learned the language of fear. The wolves loomed at every corner, yet Moishe still held on to the blessings of his mother's blueberry pierogis, of celebrating the Sabbath as a family, of a loyal friend. But each day the darkness weighed more heavily on Moishe as his family was broken, uprooted, and scattered across labor and concentration camps. Just as his last hopes began to dim, a simple act of kindness redeemed his faith that goodness could survive the trials of war: That was the day it rained warm bread.

Gloria Moskowitz-Sweet relates her father's triumphant Holocaust story through the words of award-winning poet Hope Anita Smith. Deftly articulated and beautifully illustrated by Lea Lyon, this is an essential addition to the ever-important collection of Holocaust testimonies.

Christy Ottaviano Books
About the Author
---
Gloria Moskowitz-Sweet is the daughter of holocaust survivor Moishe Moskowitz. Her stories inspired the children's book It Rained Warm Bread.

Hope Anita Smith is the author of The Way a Door Closes and its sequel, Keeping the Night Watch. A professional story-teller, Hope teaches poetry-writing workshops to all grade levels. A native of Akron, Ohio, Ms. Smith now lives in Los Angeles, California.

Lea Lyon is an illustrator of children's books. Recent titles include Say Something by Peggy Moss and Keep Your Ear on the Ball by Genevieve Petrillo.
Praise For…
---
A Parents Choice Magazine Gold Award Winner
A Kirkus Best Book of the Year
An NCTE Notable Verse Novel
An ALSC Notable Children's Book
An ALA Notable Book for Young Readers
A Bank Street College Best Book of the Year

"Moishe's daughter provides the story, as told to her by her father, and entrusts Smith to pen poems that strike at the heart of each moment, each fear, each horror and make it personal for readers even as time erases witnesses. A deeply moving, beautifully written portrayal of an evil that cannot be allowed to be forgotten." —Kirkus Reviews, starred review

"First person spare, eloquent verse . . . Occasional watercolor wash sketches complement the poems, adding a memorable visual dimension. An author's note by Moskowitz-Sweet tells more about her late father Moishe, on whose memories this novel is based." —Horn Book

"Smith's spare verse propels readers swiftly through the story . . . Readers intimidated by denser prose may appreciate the understatement in this poetic account. Small black and white vignettes add visual impact . . . a moving prose note from Moskowitz-Sweet concludes the book." —The Bulletin

"Smith's short, evocative poems highlight significant incidents from Moishe's perspective as he survives against nearly impossible odds. Lyon's sepia-toned art depicts the story's many emotions, especially the fear and loneliness that are Moishe's constant companions." —Booklist