28 Days: A Novel of Resistance in the Warsaw Ghetto (Paperback)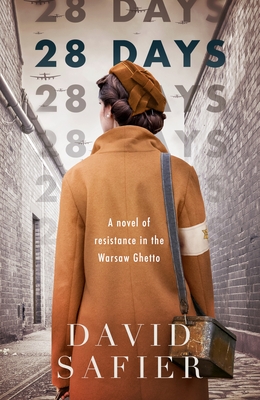 Description
---
Inspired by true events, David Safier's 28 Days: A Novel of Resistance in the Warsaw Ghetto is a harrowing historical YA that chronicles the brutality of the Holocaust.

Warsaw, 1942. Sixteen-year old Mira smuggles food into the Ghetto to keep herself and her family alive. When she discovers that the entire Ghetto is to be "liquidated"—killed or "resettled" to concentration camps—she desperately tries to find a way to save her family.

She meets a group of young people who are planning the unthinkable: an uprising against the occupying forces. Mira joins the resistance fighters who, with minimal supplies and weapons, end up holding out for twenty-eight days, longer than anyone had thought possible.
About the Author
---
David Safier is a bestselling German novelist and television writer whose credits include the TV series Berlin, Berlin, for which he was awarded the Adolf Grimme Award and an International Emmy Award for best comedy. He has published adult novels in Germany, but 28 Days is his first young adult novel, and his first novel published in the US. He lives in Berlin.
Praise For…
---
"Throughout this complex novel, rich in evocative detail, Mira's view evolves from a narrow focus on herself and her family to consideration of the larger community around her, reflected in her first-person narrative."--Booklist, starred review

"The story Safier shares of the 28 days of Jewish resistance after the Aktion in the Warsaw Ghetto is powerful indeed."--School Library Journal